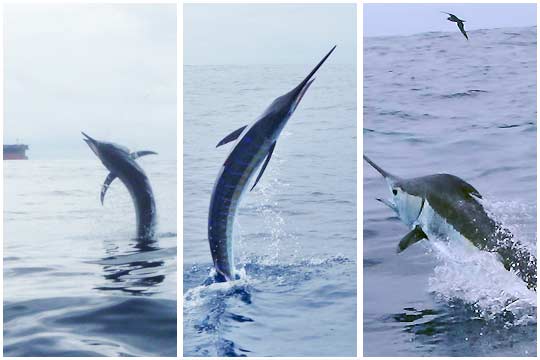 Part of the marlin fishing grand slam caught off Port Stephens on Flying Fisher yesterday
Lake Macquarie Big Fish Tournament
Starts today with some hot marlin fishing going on yesterday indicating this might be a good one!  Capt. Scotty Thorington's Flying Fisher 1 had a grand slam day with 6 from 6 – 4 striped marlin, 1 blue marlin and 1 black marlin. Ben "Notso" Bright who joined Scotty for his annual Port Stephens cameo on the first day of their Port season yesterday tells me that The Force caught 5 and a few trailer boats caught a few as well.  On Flying Fisher they were switch baiting in the morning and trolled skip baits in the afternoon hooking up on their final fish 5 miles in on the way home.  Ben says there is a lot of life out there with flying fish, tunas etc.
54 odd boats are fishing the comp from today. Good luck to all who are competing!
Sunshine Coast Game Fishing Club Classic
Day 1 yesterday saw Reel Capture take the lead with 2 black marlin and 1 sailfish.  Other boats with fish on Day 1 include Out Quoting with a sailfish, No Name (yes that's the boat name) with 2 blue marlin, Reelaxin with 1 blue marlin, Blue Reela with 1 blue marlin and Galaxy 2 with two black marlin.  A great start~!  Good luck to all again today and thanks Tony for the update!
Jess Sams Tournament in Ulladulla
Fishing began yesterday for Jess Sam at Ulladulla as well but I don't have any reports yet (anyone?)
Cairns Marlin Season Footage
Jordan has finished the Cairns Giant Black Marlin fishing season 2011 highlights on board Castille III, you can check out Part 1, 2 and 3 here.  Likewise, I have finished our KEKOA season DVD and have uploaded three new highlight clips to YouTube here.