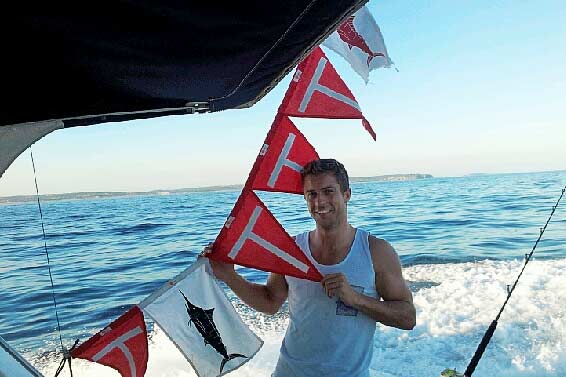 Tags flags on Fritto 1
Some very hot marlin fishing action was recorded on Day 1 on the Lake Macquarie Big Fish Bonanza.  This is only a snapshot of the day's action – the tournament finishes today:
Seaka, skippered by Geoff Thompson has streaked to the lead with 9 tags on day 1, followed by Rocket on … Rocket with 7.  Scotty Thorington's Flying Fisher had a second grand slam in a row with another 6 marlin – 3 striped marlin, 2 blue marlin and 1 black marlin.  Garry Holt's Diversion added a late fish to end up on 5, all on 15kg.  Andy tells me that on Fritto 1 they raised 9 marlin, hooked 6 and tagged 4.  While Karly Curtis was doing it for the ladies on board Ningaloo with brother Brad at the wheel. Karly tagged 4 from 6, all striped marlin in the 80-95kg range (decent sized stripes) with one on 15kg and the rest on 24kg.
On the Capture side of the tournament, Capt. Adam Jordan's Iona 2 tells me they had 11 bites fishing with Kristy weighing a 58kg stripe on 8kg.  They also weighed another at 84kg on 15kg and tagged a third stripe on 15kg.
Line classes come into play significantly for point scoring so this is not an indication of the leaderboard!