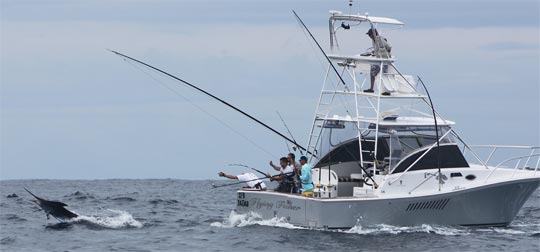 Photo of Scotty Thorington's Flying Fisher on a fish from the Friday before the tournament.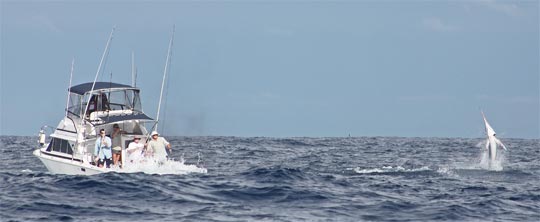 Lake Macquarie boat Blue Blooded on a stripe. 
Dave sent me these great action shots to accompany last week's Lake Mac tournament report but I missed them because I've been away for a few days. Thanks Dave, they are great shots.  And now that I'm back, plenty of marlin fishing over the last few days to catch up on! I'm still working through but here is a report in-progress:
Port Stephens
Saturday seemed the pick of the days for many with the boys on Rob Powell's trailerboat Josh finishing with 10 from 12 (more to come.)  Capt. Tim Dean's Calypso got 6 stripes and Capt. Scotty Thorington's Flying Fisher made up for a slow start – originally heading north in the morning, they made it back south by 12:30 to go 6 from 6 in four hours in the afternoon.  George Trinkler skippered Born Free to 7 from 12, while the Lee family on Gunrunner tagged 6.  First day on the water off Port, Dan Smith's Sunshine Coast based Game Plan released 6 – Conor tells me they were 5 stripes and a black marlin.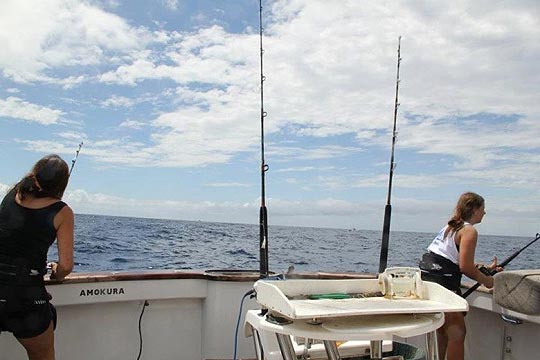 On Saturday, the ladies had a bit of a fun and successful girls day on Amokura going 4 from 6 which included a mother/daughter double hookup for Rebecca and Jacinta. That's the ladies in action hooked up above!
Sunday, was a bit more hit and miss with boats who found success the day before, finding the going much tougher. Still there were a number of good catches with Gunrunner, Diversion and Flying Fisher all recording 5 each.  On Gunrunner Scott tells me that Sunday was pretty tough fish-wise althought there were plenty of boats (he counted over 80 boats in the one area!) One fish dragged them through the entire fleet and it was a crazy 20 mins! And how are these stats to put the last week and a half of fishing in perspective?  Ben tells me that on Flying Fisher they are now up to 48 fish in 9 days fishing, comprising of: 55 bites, 51 hookups for 13 black marlin, 3 blue marlin and 32 striped marlin!
Gold Coast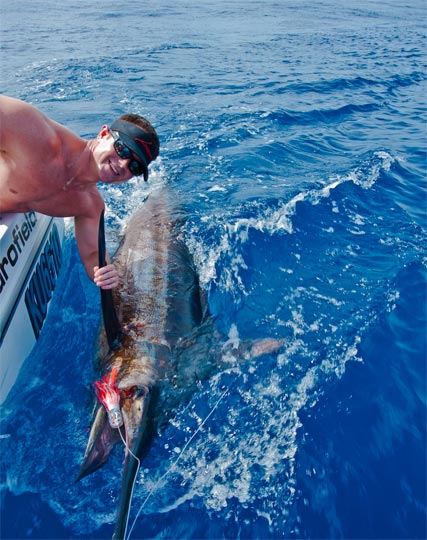 Murphy's Law went 3 from 3 on blue marlin on Saturday including the estimated 300lb blue marlin pictured above for Larva Lure's Daniel Burke. Barco went 2 from 4 on the blues on Saturday as well, and then 1 from 2 on Sunday. Vince tells me that boats returning to where they caught fish Saturday on Sunday found little.  Capt. Ross McCubbin fished Lucky Strike yesterday for 2 blues – a 150kg for Mark Moreland and a 200kg fish for David Green.  Ross is back out there today and has already had one up this morning. Update: 9am and Ross has already released two!
Cape Moreton / Sunny Coast
Capt. Ken Brown's Megumi fished Saturday for 1 from 3 blue marlin on the shelf east of Cape Moreton.  And on Sunday he went 3 from 3 – all blues between 250 and 350lbs.  Mooloolaba GFC boat Akoya also fished Saturday for 1 from 2 on blues. Kurt tells me they hooked up on a pod of dolphins along a spawn line and also caught an 18kg dolphin fish. And MGFC Club President Nathan Douglass also tells me that on board Luna they also went 2-2-2 blue marlin for Nathan and Michael Wrack around the 2-250lb mark. Nathan says it was a club rally day topped off by dinner at the Mooloolaba Yatch Club for all club boats.
Meanwhile David Trask's Big Business also went 5-4-3 on blues off the Cape Sunday as well.
There have been reports of the little blacks showing up off Point Lookout (North Straddie), just in time for the Little Ships Tournament this weekend.  More to come!
Shellharbour
They Shellharbour Open Tournament on the weekend was won (T&R) by Craig Murphy's Dadsboat with 3 from 4 tags including first the first marlin gong. Congratulations Craig and team – report to come!