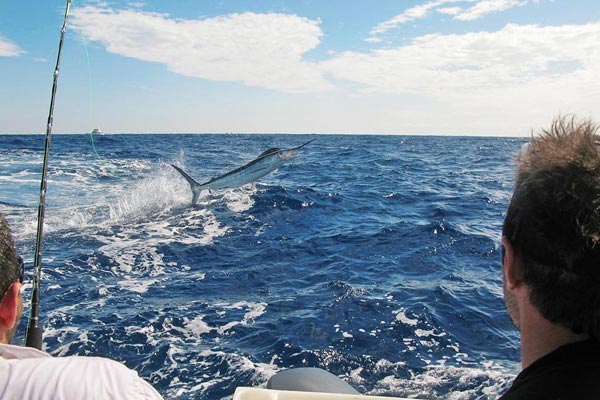 Shellharbour
Report from Champion Boat T&R winnner Craig Murphy on his Dad's Boat – thanks Craig: "The fishing was again pretty slow for the tournament days with the 30 boats entered blessed with glamour weather.  On Dad's Boat we managed to trick a striped marlin and a black marlin on day one and tagged them on 15kg line for Peter and Damian McLeod from Melbourne (both their first marlin).  We then backed it up with another stripe on Sunday for Robert Cecere and broke the hook on a fourth fish just out of tagging range."
Craig tells me that he had Capt. Daniel Carlson running the deck for him who was just awesome, tagging fish deep underwater with the boat screaming back! Congrats to all!
The full trophy list is here – Shellharbour GFC Open 2012 Trophy Winners
Port Stephens
Some more reports coming in from the weekend at Port Stephens.  Anthony sent me this recap of the 10 fish-in-a-trailerboat-day on board Rob Powell's 5m Josh on Saturday.  It's worth noting that Rob added another 6 from 8 yesterday as well.
Anthony says they were 8-8-8 by midday and it was hook up, fight, release, drop a bait and hook up again all morning!  They were lingering on 10-10-9 after a slowish afternoon until 5:30pm when a big southerly came through and left them struggling to stay on the bait. So they got on the troll, and had a fish up within five minutes, and pitched to it without hookup: 11-11-9. Another ten minutes later and another fish up, pitched again and they were on! 20 minutes later and ended up with 12-12-10.  What a day – doesn't get much better than that! (Photos in the gallery and above by David Power and Craig Sainsbery – thanks guys!)
I also heard from Mick O'Leary on Ben My Chree who fished just away from the crowd on the Carpark on Sunday for 3 from 3 (photo in the gallery above).  Also from Port, Dave Finn sent me the mako pics included in the gallery. Not to forget for the shark fisherman, there are a lot of sharks also swimming around the Carpark.  The mako is hooked up by trailer boat Delirious and Dave tells me that Peter Williams on Kaos also hooked a 300kg plus tiger.
Back out again yesterday with Dave Buttfield and film crew on board Flying Fisher went 3 from 4, all on spin rods and braid.  I also missed a report from Fritto 1 on Sunday who went 4-4-2.  Thanks Andy!
South East Queensland
Capt. Ross McCubbin switched back to Cjig for his trip yesterday and put owner Grant Thomson to work on the deck.  They had a hot morning bite with 4 from 6 all before lunch.   The first  fish was  a 300 lb blue,  then a 250 lb black. Next came a  double header of blues and Ross had to hold the boat between the 2 fish while they took the rod for a walk around the front. A bit of luck and good management later they were able to release both – one about 450lb on 130 and the other 400lb on standup 80.  The anglers were Peter McLeod and Leon Warren could not believe the action landing 2  fish each for the morning!
Relatively new to the marlin fishing scene, Mick Atkins, who spoke to my better half for some tips in the leadup to the light tackle masters has been gaining plenty more experience. On his boat Outwide, a 6.5 mtr Cruisecraft, Mick went 1 from 2 on blue marlin at 350lb on 50lb stand up on Sunday alongside Megumi and Big Business.  Mick also says another boat Kitty Kat, a 5.2m Kevlacat who tagged along with Outwide also went 1 from 2 on blue marlin.  (Kitty Kat, also known as Team Garmin sent me some photos included in the gallery above).  Wayne on Kitty Kat was fishing with his 6 year-old son and his 6 year-old cousin. A great day on the water for the young ones!
Don't forget the Little Ships tournament this weekend – photos of the big raft up of past years included in the gallery as well.
Cairns
Message from Tradition's Capt. Tim: "I am running a 47 Davis out of Capcana in the Dominican Republic from April thru to July this year. The DR is famous for its light tackle white and blue marlin fishery, with up to 10 fish a day regularly seen.
For more information, please email Capt Tim Richardson at Tim@TraditionCharters.com.
And Little Audrey's Capt. Daniel Carlson and crew Brady Lybarger and Jeff Hudson have put together a highlight reel from the 2011 season below: