Marlin fishing reports from Port Stephens indicate its going from strength to strength. Next on the tournament calendar is the NSW Interclub which kicks off with the first weekend of fishing this Saturday and Sunday.  (You can find the official Billfish Shootout Results in the post below.)  Fishing Monday, it was Capt. Dean Beech's day with Castille III recording 7 from 13.   They are out again today and already have 1 fish on board.
Nearby Flying Fisher went 4 from 6 with Ben "Notso" Bright at the wheel relieving Capt. Scotty Thorrington up the top for the day.  Its Ben's last day for 2012 with Scotty's Haven Charters Terrigal Team as he heads back to Weipa and Ben leaves Scotty and Junior on 63 marlin in 2 weeks fishing.  Thanks Ben for all the great reports!
Meanwhile, on the Gold Coast Addixion had an impressive day at Mick's Mountain yesterday going 3 from 9.  Capt. Ross McCubbin fishing on Cjig closer inside found the water cold and dirty where the bite had been the day but will still able to release a 150kg blue marlin for angler Leon.  Capt. Ken Brown on Megumi is still chipping away at them.  Brownie went 1 from 2 E/SE of Point Lookout for angler Mark Adamson on Sunday and the followed up with the same again Monday E/SE of Cape Moreton for Andrew Coronis. They were the first blue marlin for both anglers.  Ken also tells me that Peter Jenys drove Cabolito on Monday fishing nearby and went 1 from 1 for ex-cricketer Andy Bichel – his first marlin after fishing 15 days in locations all around the world without success.  Ken says that Jenno put a huge smile on his face!
Weekend Marlin Fishing Photos
Some really great photos have come in from the weekend fishing off Port Stephens – thank you to all who sent in the shots!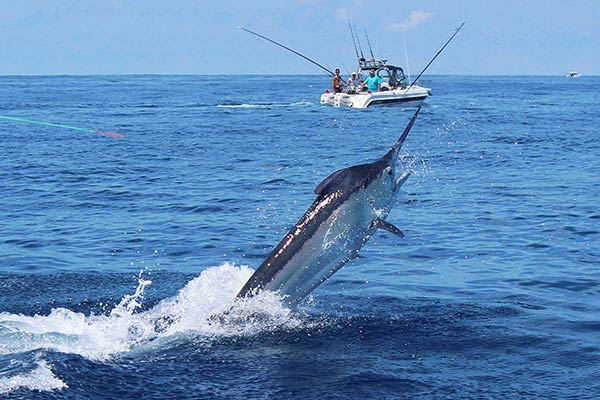 A black marlin in action behind Fritto 1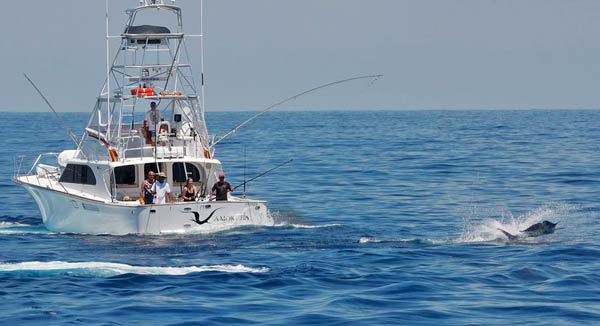 Jacinta Thomas mid-fight on Amokura – great photo taken by George Trinkler from Born Free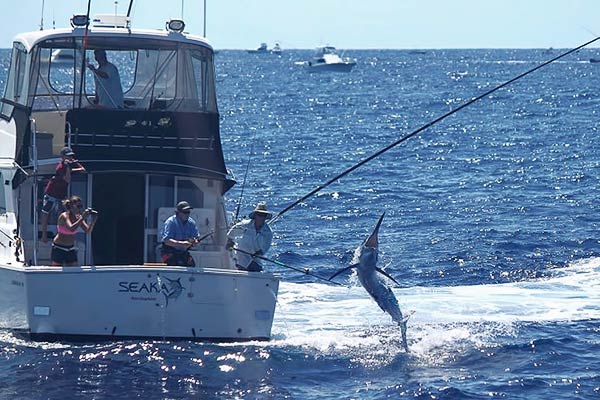 Stephen Pitchfork's great shot of Seaka in action taken from Gale Force.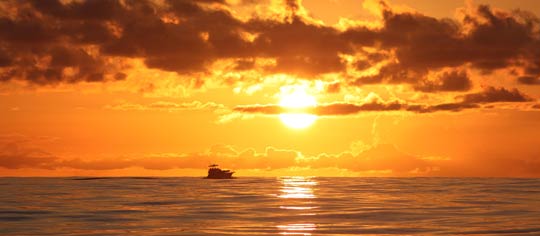 Beautiful sunrise shot Dave Finn took on the way out to the grounds Sunday morning while traveling at 27knots!