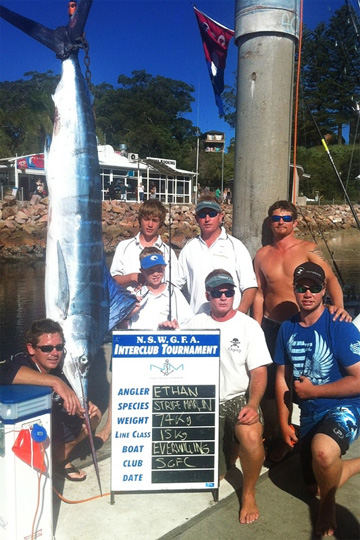 Ethan Henderson on Everwilling with his pending Small Fry record
On the Gold Coast, owner Grant on Cjig enjoyed his second day of hot fishing yesterday going 4 from 7 off the Tweed Canyons with Capt. Ross McCubbin at the wheel and Grant on deck.  This follows up from his boys day Monday with 4 from 5 – 8 blue marlin in two days fishing is a great result.  With the Surfers Paradise All Tackle All Species comp kicking off tomorrow with Ladies' Day, competitors will be looking forward to getting a share of this type of action.
Grant says the fish were all in the 200-350lb range.  The day before Ross joined Vince on board private Gold Coast boat Barco for 1 from 9 with the fish not biting properly. Ross said the fish were just tapping the lures and so it was good to see that they came back on the bite yesterday!
Down at Port Stephens, the NSW Interclub Mid-Week comp started yesterday with 27 boats entered.  It is the 50th Anniversary Billfish Challenge and fishing winds up today. Andy reports that Amokura have 5 tags (3 for Jacinta and 2 for Mat) from Flying Fisher and Running Bear has 2.  Most other boats have 1's and 2's. And Amokura is already on the board again today with another for Jacinta! Updated: An interesting bit of news that I just heard is that one of Capt. Scotty Thorrington' fish on Flying Fisher yesterday was a previously tagged blue marlin.  They do tend to recapture a fair few striped marlin down there but its a bit more unusual for the blue marlin. Hopefully Scotty will be able to find out more about the first tag and update us.

Capt. Daniel Carlson also sent me this pic (top) of a pending Small Fry record for Ethan Henderson on Friday on Everwilling.  It's been a take-off marlin fishing career for 10 year old Ethan who only caught his first marlin less than two weeks ago.  Then he took out Champion Junior at the Billfish Shootout – now he has his first pending record.  Congrats Ethan!