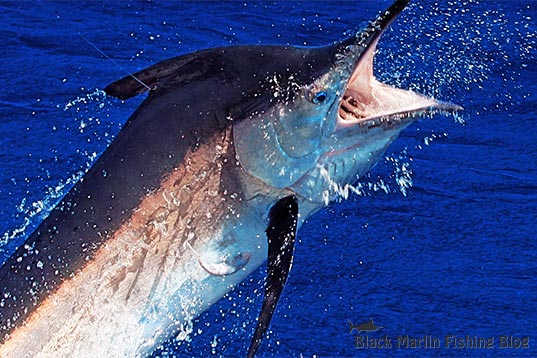 PORT STEPHENS
Capt. Scotty Thorrington on Flying Fisher gave me an update on the blue marlin recapture that he reported last week. The fish had been previously tagged on April 11, 2011 (so almost a year earlier) on the boat Khe San on the Ulladulla Canyons.  Scotty tells me that he recaptures a number of fish from down that way each year and told me the story of a previously tagged kingfish that he caught recently from down that way as well (actually The Banks off Jervis Bay).  The kingfish is the longest recorded tagged kingfish recaptured in Australian waters and was previously caught 7 years earlier.  When it was measured at the time of original capture, it was 60cm and had grown to 98cm when it was recaptured on Flying Fisher 7 years later!  Very interesting stuff!
Scotty tells me the water is 25 degrees and the current pushing hard to the south on the edge today – and with the weather, they are instead trying their luck inshore.  Their season tally currently sits at 88 marlin for their season so far (82 since their arrival in Port Stephens and 6 at home in Terrigal before they left).  They still have five weeks of fishing to go to beat their last year's total of 110 marlin in the three months of the season.  Scotty says that the conditions inshore look good for the black marlin to come through as soon as the water does – which should set it up very well for a late season inshore bite.  Here's hoping that's the next part of what has already been an incredible 2012 season!
EXMOUTH
The hot marlin fishing season of 2012 looks set to become even hotter as we turn our attention to Exmouth in Western Australia for their big tournament season which starts this weekend.  GAMEX 2012 starts on Saturday and will be run in conjunction with the WA Interclub and then the AIBT is hosted again in Exmouth in 2012 and will be held the week after (19-22 March).
This year GAMEX will be joining the Great Marlin Race with satellite tags being deployed to track the progress of the marlin. For more information visit: www.egfc.com.au