Marlin fishing reports from all over today!  Reporting from north to south and clockwise round to the west – to put some order into it!
Townsville
Talk about marlin in strange places (or, in the right place at the wrong time) with two marlin reports from Townsville GFC. The first that 12 year-old Jack Price from Macknade (Ingham) caught his first marlin while fishing with his Dad near the Palm Island group in late February. Apparently it swam away very swiftly and Jack was very excited as it was completely unexpected(!)
The second was caught by a local army barge heading south through Bowling Green towing some pushers and snagged a little black along with an average size wahoo early last week.  Due to the terrible wind and rain that has set in in the north, no club boats have had a chance to venture too far but we look forward to hearing more when they do.
I should also mention while that while we were at Lizard Island a few days ago, Capt. Craig "Brutus" Newbold on Fascination told us about a tiny black marlin they had released the week before. So there are a few stray ones about further north too.
Sunshine Coast
Still some small black marlin around on the Sunshine Coast with Reel Capture fishing last Thursday for 7 and again on Saturday for 2 from 2. Fish Whisperer also fished Saturday for 3 from 4. The Back to Tanga 4 tournament was also held on Friday and Saturday (more details to come) and Nick tells me that 11 billfish were caught.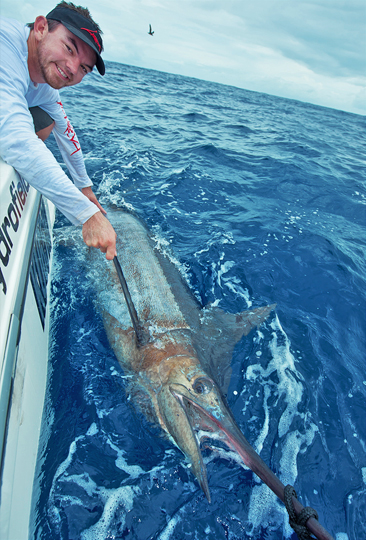 Blue marlin for Anthony Goulding on Murphy's Law Saturday on the Gold Coast
Gold Coast
Mat Stehmann's Murphy's Law headed out again on Saturday with Larva Lures' Dan Burke and Anthony Goulding on board (great photos from Anthony with thanks! One is above, I'll be posting some more a little later!)  Mat says they had good conditions for a great day's fishing  going 4-4-3 on blue marlin north of Jim's. Mat says one fish was 130-150kg other 2 were 80-100kg – one stubborn fish taking an hour 10 minutes while the other 2 were both 10min fish.
Coffs Harbour
Fishing was good for the Solitary Islands GFC boats on Saturday before the weather came through again. Wicked Weasel went 5-4-2 while other club boats had 5-1-1 and 3-3-3 for the lucky one that didn't get out there until after lunch.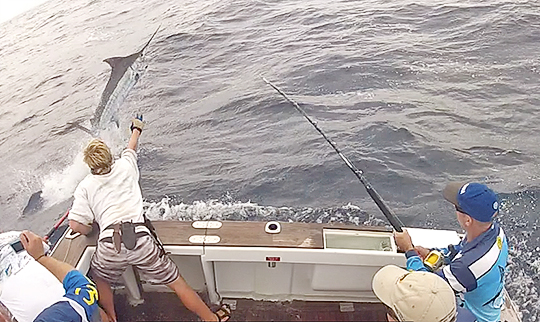 Jay on the leader on Flying Fisher
Port Stephens
The fishing has been pretty slow although there have been some signs of promise over the weekend with a few boats releasing fish including Born Free, Calpyso and Flying Fisher. Jay sent me this shot of him on the leader as well as a teaser video from some of their season so far below. (They are on 96 marlin for the season now.) Jay says that 3 days of south-easterlies should slow the current down and so hopefully the fish will surf back in this week.
Broken Bay
The Broken Bay Invitational was held over the weekend with 48 boats entered for what turned out to be some pretty tough fishing and conditions.  Ron says both days were 25 to 30 knots of southerly wind against a 2-3 knot southbound current resulting in some very big seas. And only half the fleet fished Sunday after getting hammered on Saturday.
The final tally was 6 marlin tagged and released, 1 shortbill spearfish (T&R) and 1 marlin captured as well as a 185kg mako on 15kg which won the capture division for Bundy 1.
T&R results:
1st Blood Shot (Lake Macquarie) – Striped Marlin on 15 +  a yellowfin tuna on 24
2nd Shakara (Broken Bay) – Striped Marlin on 15
3rd Reel Time (Broken Bay) – Black Marlin on 24
Karen Wright on Tantrum won Ladies with the Short Bill Spearfish while Will West on Shakara won Junior with the Striped Marlin on 15. (Update: Apologies to Blood Shot, who won the T&R section, inadvertently referred to as Blue Blooded in the first update!)
Exmouth
Gamex has wrapped up although results haven't been announced as yet and the AIBT starts today.  Unfortunately, they have also been experiencing some of the effects of cyclone Luna which haven't made conditions ideal.  The club reports that while the billfish fishing portion of the tournament was slower than recent years, there have been a number of pending state, national and world records with big fish on light line. Report to come.
Footage from Jay on Flying Fisher (thanks Jay!):