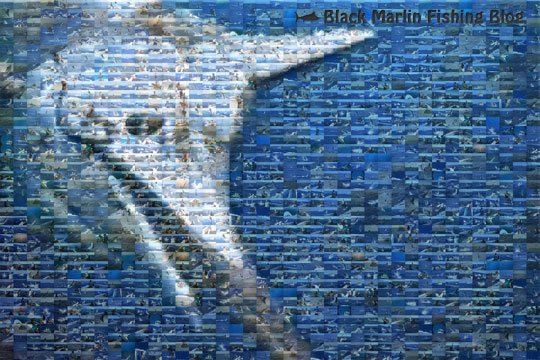 The monthly newsletter has gone out this morning. If you are not subscribed, you can still check it out here. It contains links to the latest desktop wallpaper, information about the launch of FishLife Magazine and more.
While the fishing has significantly slowed at Port Stephens, I had some more great recapture news from Capt. Scotty Thorrington on Flying Fisher. I reported last week that Scotty had recaptured the first tagged blue marlin in NSW waters during the Interclub mid-week comp. Now comes the news that the same fish has possibly been recaptured again 6 days later.  The team tagged two blue marlin on the same day during the comp and because the tag cards are still with the tournament committee, there's no telling yet whether it is in fact this unlucky (or extremely lucky) blue marlin which would make this its third capture (at least) or the other similar sized blue tagged that day. Stay tuned as Scotty will let us know when he finds out!  The fish hadn't gone too far, just a matter of a few miles to the south.
I also heard from Capt. Ryan Capp on The Ultimate with an update from Bateman's Bay where boats have been seeing some good baitball action in the last two days.  Ryan says the best result was for the team on board Aspro who released 5 from 8.  FnB tagged a 200kg blue marlin while the trailer boat fleet have also been catching 2 or 3 each.  Ryan got 2 and jumped another one off and lost another when the spin reel broke off at the rod mount(! and they lost the reel over the side to boot!)  Ryan says the fishing should fire as the moon fades so we look forward to hearing more!
The conditions have been tricky for Gamex 2012 over in Exmouth after day 1 was cancelled due to the weather. On Day 2, 36 billfish were tagged followed up by 32 on Day 3 as well as several pending gamefish records.  They have been experiencing some pretty strong winds from Cyclone Luna to the north West. Hopefully it doesn't cause too much more over the coming days.
We are currently at Lizard Island and departing today to fish the islands further north to Princess Charlotte Bay on our way around the tip.  Service may be tricky for us over the next week (and by tricky, I mean probably none) and so reports will pick right back up when I get back in range.  Stay tuned!