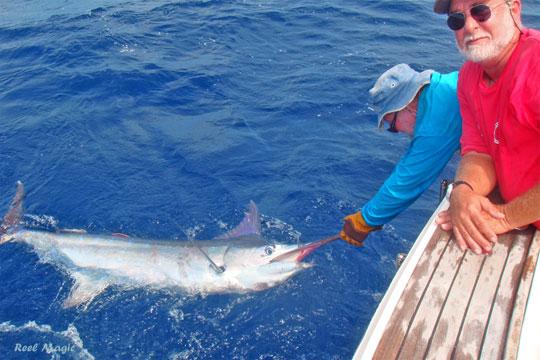 Blue marlin tagged on board Reel Magic
The  Haines Group sponsored "Back 2 Tanga 4" game fishing tournament was held between the 16 -18th March with 87 registered anglers and 25 boats representing clubs from the Gold to the Sunshine Coast as well as one international angler, Miguel Mermond from New Caledonia. The competition was run out of the Moreton Bay GFC base on Moreton Island.
Friday was reasonable weather with a 15-20 knot SE as the boats fished from home ports. The Sunshine Coast teams headed north to the "Hards" off Noosa where the previous weekend had seen all the small blacks and sailfish action. This time, with tougher sea conditions the bigger boats found the fish and tagged a few small blacks including a black marlin on light tackle for Debbie Dahl on Bring it On to lead the women's section. Meanwhile, Reel Magic headed south off Point Lookout canyons and found the blue marlin,  tagging 3 for the day on 37kg and taking the overall lead.
Saturday saw better weather with a number of boats fishing around the Cape. Prior to lines in a number of free swimming sails and blacks were seen but of course, by the time lines in was called, they had disappeared.  Overall the fishing on Saturday was slow with only a few boats tagging marlin and Real Magic adding another blue to their tally.
The final result saw 11 billfish tagged, a few wahoo and tuna and other gamefish species. Saturday was party time with great food and a great band and Huey throwing in some rain storms.
Sunday was the recovery breakfast and presentation with the prize winners as follows:
Champion boat 7m+                             Reel Magic  (MBGFC)
Champion boat under 7m                        Team Suzuki (LSC)
Champion Angler                               Miguel Mermond (MBGFC & Espandon)
Champion Angler Runner-up                     Rod Johnston (MGFC)
Champion Angler –Senior Male                  Miguel Mermond (MBGFC & Espandon)
Champion Angler – Senior Female               Debbie Dahl (MGFC)
Champion Angler – Junior                      Charlotte Ditchfield (MBGFC)
Junior Angler – Runner–up                     Ryan Thomsen (LSC)
Champion Angler Billfish                   Miguel Mermond (MBGFC & Espandon)
Champion Angler – Other Gamefish            Charlotte Ditchfield (MBGFC)
First and Last Billfish tagged             Miguel Mermond (MBGFC & Espandon)
Champion MBGFC Angler                   Miguel Mermond (MBGFC & Espandon)
Champion MBGFC Angler                   Miguel Mermond (MBGFC & Espandon)
MBGFC Angler – Runner-up                      Michael Hutton (MBGFC)
Champion Tuna Angler                          Ben Staziac (SCGFC)