A couple of pieces showing off the great marlin fishing of South-East Queensland currently on offer.
Firstly, David Granville has done a write up of the recent run of black marlin and sailfish off the Sunshine Coast for Buoy Weather's Fish Track website.  Its well worth visiting, not only for Davids great photos and video which accompany, but the website tools themselves which provide SST and Chlorophyll imagery, marine weather forecasts and more of the world's top sport fishing destinations.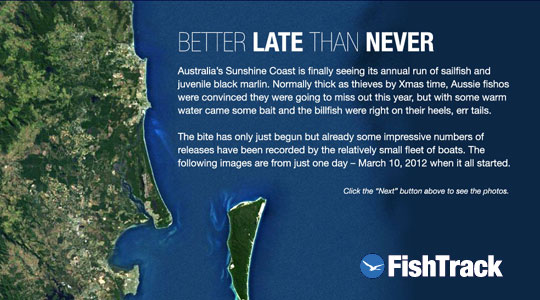 If you look through the past reports you can also read about the season at Port Stephens and blue marlin fishing on the Gold Coast.
Secondly, speaking of blue marlin fishing on the Gold Coast – here is the video from Murphy's Law's 4-3-3 on the weekend. Thanks Daniel for sending in!