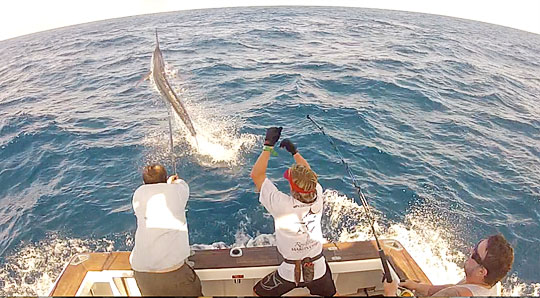 With the fishing on the edge still pretty tough (boats are chipping away with one or two a day – check out Andy's report for more below) the good news has come through that the small black marlin have shown up inshore.  Capt. Scotty Thorrington on the Flying Fisher puts their arrival at about two weeks late, but hopes they will stick around for a few more to come.  He's been following the good water daily fishing at the Gibber on Friday for 5 blacks and further up north past Seal Rocks yesterday for 6.  This puts their season tally now on 108 marlin which is just two shy of their total last year with still close to two weeks to go.
Scotty reports the fish are in the 60-90kg range and they've had the most success live baiting.  Yesterday they were catching them right in close in just 7 fathoms of water!
And thank you to Jay for the video stills – Jay on the leader in both shots!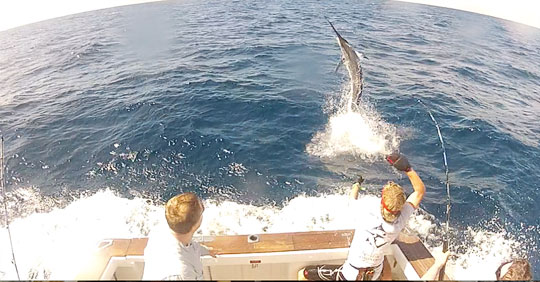 As for the stripies: A report from Andy on Fritto 1 who says the marlin are back but nothing like a month ago.  They god a nice stripe to first time 11 year-old junior angler.  The fish was tagged in pitch darkness after 4.5 hours on 10kg – which is just an amazing effort for an 11 year old!  Andy says the fish fought dirty down deep for the entire fight (pic below) and when they finally got it up next to the boat and saw it was around the 100kg mark, noted that it was potentially a junior record contender. But T&R was the call.
Magic tagged 1 stripe. Mutley captured another and Diversion went 2-2-1 and lost a stubborn black marlin after several hours late in the day. Seaka went home with empty riggers for 3-2-0. And Shelby got 1 fish.  Andy reports that the water is blue and 26+ degrees and that there is plenty bait around. The fishing should start to fire again soon hopefully.