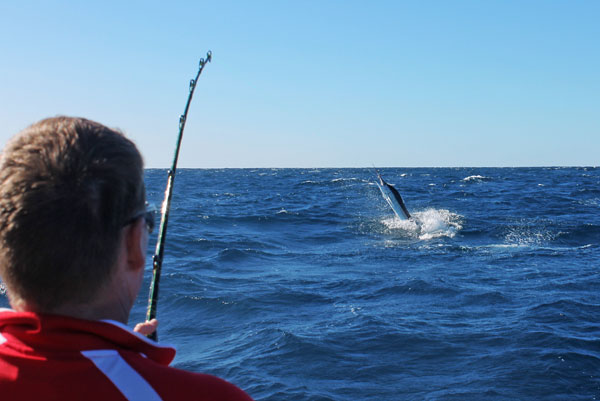 A big thank you to T&R winner Craig Murphy on Dadsboat for the wonderful tournament report!
"18 boats entered the 39th Annual Shoalhaven Open on the weekend.  The fishing has been tough on the south coast this year with patchy water quality and very little bait to speak of, still hopes were high of a few fish being around to keep everyone interested.
Fridays weather was horrible with 20-25 knots of Westerly wind.  Bob Sinclair broke his new boat Prelude in for its first day of tournament fishing with a tagged striped marlin and the capture of a blue marlin of 247.4kg to junior angler Phil Lamond (a new Shellharbour Club, NSW and Australian Record).  On Dadsboat we managed to tag a striped marlin too for our angler Paul "Sparky" Aulsebrook.  Closer inshore Mark Way and the team on My Way were kept busy by the resident whaler sharks on the Banks eventually tagging 6 for the day.  The shark boats had a difficult day for drifting out wide still a few were hooked and eventually won their freedom.
Saturday dawned a much nicer day with more south in the wind and an easing forecast.  Steph Watts on Outcast hooked a tiger shark around 10am and stayed battling it for the next 16 hours!!!  The fish was hooked in the Drum canyon area and towed the boat around the ocean, the boys ending up pulling the hooks on the trace at 2am on Sunday morning in 60 fathoms wide of the Banks, an epic effort in anyone's books!  Another long fight was also afoot with Dean Stanwell hooked a mako shark which lasted for 7 hours, eventually landing the fish that weighed 198kg.  My Way again fished the banks for another 3 whaler sharks to edge the team's points a little higher.  On Dadsboat, we were lucky enough again to tag a striped marlin to Sparky on 15kg line.  Doctor Paul Allin on Seaduction had difficult day fishing for kingfish on 6kg line losing a couple of fish over the 20kg mark.  Ray Tickner also tagged a striped marlin from a triple hook up on his boat Headquarters to pressure the leaders.
Sunday dawned glamorously and there were a few sore heads after the usual Saturday nite frivolity!!  The current had turned and was now racing up hill at 2 knots.  There were only 3 marlin tagged for the day with Pete Watson steering Mayhem onto a striped marlin.  Stephen Hoger tagged his first ever marlin, a est. 150kg blue on his boat Hogies on 15kg line, and Mark Halling's boat Sunset Marine caught a blue marlin that ended up weighing 118kg (but didn't reach the weigh station in time).  On the shark front, Mitch Ryan had his boat Outcast back at sea early to put his girlfriend Steph Watts onto a couple of makos and to eventually take out the ladies Tag & Release category.  (I'm surprised she could bare to look at a rod again after the ordeal from the previous night!!)
The final category winners are below:
Capture Categories
Highest Point Scoring Boat: Black Jack
Highest Point Scoring Male Angler: Dean Stanwell on Black Jack
Highest Point Scoring Lady Angler: Not Won
Highest Point Scoring Junior Angler: Phil Lamond
Highest Point Scoring Small Fry Angler: Not Won
Heaviest Billfish: 247.4kg Blue Marlin, Phil Lamond on Prelude
Heaviest Shark: 198kg Mako, Dean Stanwell on Black Jack
Heaviest Other Game Fish: Not Won
Champion Composite three boat team: Black Jack, Prelude & INXS
Tag & Release Categories
Highest Point Scoring Boat: Dadsboat
Highest Point Male Angler: Paul "Sparky" Aulsebrook on Dadsboat
Highest Point Scoring Lady Angler: Steph Watts on Outcast
Highest Point Scoring Junior Angler: Phil Lamond on Prelude
Highest Point Scoring Small Fry Angler: Jada Goddard on The Enforcer
Most Billfish Tag & Release Boat: Dadsboat
Most Shark Tag & Release Boat: My Way
Most Tuna Tag & Release Boat: Not Won
Champion Composite three boat team: Dadsboat, Magic & Sunset Marine"