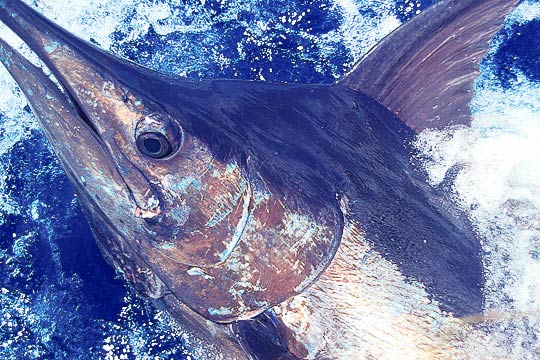 With the weather cooperating for the entire Easter long weekend the south-east Queensland fleet enjoyed some quality days on the water and some great results with the blue marlin particularly off the Gold Coast.
Starting on Good Friday – Capt. Jared Weir on Shaka reported 3 from 4 blues fishing north-east of the Goldy in just 5 hours of fishing. Jared says the fish were all around the 200-350lb range.  Fishing nearby, Capt. Brett Alty on Mistress went 2 from 3, with the crew likewise having an early day and heading back to port at lunchtime (Hi Rocket, hope your hand is better for the weekend!) Update from Capt. Brett on Mistress:  Brett reports they ended up their weekend with 5 blues from 8 bites and raised another 4 fish on the TowCam that didn't eat.  Brett also said that two of the fish were bigger specimens one about 450 to 500lb and their last fish at 4.30pm yesterday afternoon which was a really nice one about 800lb that they tagged to keep her there for the tournament ;-)  Rocket put a 12/0 straight into his hand all the way up to the shank and spent 2 days in hospital having in removed under general anesthetic, as they couldn't get it out under local. And it had nothing to do with a fish!  He was just setting the hooks in place in the back of the lure! *end update*
On Saturday, Capt. Ken Brown's Megumi hit the water east of Cape Moreton and went 3 from 3 on the blues.  Ken says the anglers were Simon Marshall and his wife Ellis and Simon's father Terry. Ellis' fish was about 250lb and Simon and Terry's were good fish each around 400lbs. Back on the Gold Coast on Sunday, Barco had a successful day with a 3-3-3 before returning to port with b.o.a.t problems. Capt. Ross McCubbin fished Reel Busy with Craig and Rob See for 3 from 5 all in the 110 -150kg range. Ross said that they also saw a few others while Mistress added another blue as well and Dan reports that other Gold Coast boats went as follows: Little Jugs: 3-4-1, Matt Stehmans' Murphy's Law: 4-2-2, Unreel: 4-4-1 and Addixion: 3-3-1.
Then on Monday, back on Lucky Strike, Capt. Ross reported the day of the weekend with a massive 6 from 8 blue marlin including one that he put at 700lbs for Dave Job!  Fishing nearby, Mistress also encountered another big fish that they put at 800lbs, finishing the day with 2.  Ben Colvin reports that on Watch Tower , they went 2 from 3 on blues, all for first time anglers and that 10 year-old Lochy was unlucky to jump his off after doing a great job on the 130!  Other results were: Gods Hands: 4-2-2, Little Jugs: 8-8-2, Jugs: 3-3-1 and Unreel: 1-1-1.
Back up at the Cape, Megumi added another 300lb blue for angler John Prefontaine and raised another that wouldn't eat. Ken says it was John's lucky day, on previous trips he has had 5 shots and jumped the previous 4 off. Yesterday he finally got 1 to stick!
On the Sunshine Coast, Reel Capture fished Saturday for a black marlin and added a striped marlin yesterday.
—-
The Gold Coast GFC's Cabo/Hatteras Billfish Shootout is on this coming weekend and part of the $45k in cash & prizes on offer includes a $1500 prize up for grabs for the most fish (billfish, dolphin fish, yellowfin or wahoo) caught on Larva Lures.  Judging from the results on the weekend, this is going to be a hotly contested prize with the lure accounting for plenty of these weekend fish (word is that Night Sky is the colour ;-)
A big thanks to Daniel on Larva for the report and results! Fingers crossed the weather and fish cooperate for the comp!
Reports from other parts of the country to come!