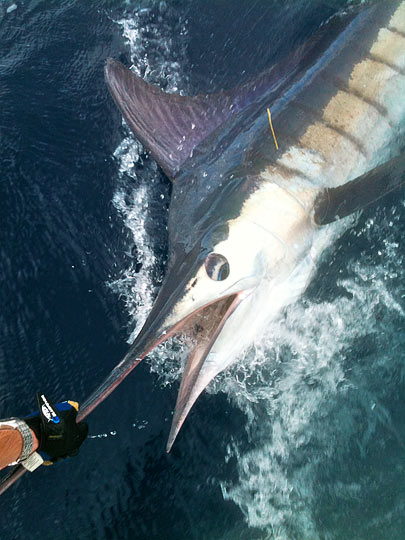 The Solitary Islands GFC's Heavy Tackle Challenge was held over the weekend just past, and with a slight cooling of the East Australian Current thanks to the weakening La Nina, there were striped marlin and big YFT mixing it up with the blue marlin that were still out in good numbers off Coffs when the 19 boats and 86 registered anglers went out on Saturday.
The blue marlin had moved from their usual hangout east of the Solitaries down to the south towards the Nambucca Canyons, and it took a while to find them. However, Black N Blue got among them early, tagging a nice estimated 160kg fish before other boats started to raise more blues in the same area.
Meanwhile, Foreign Exchange had tagged a big striped marlin estimated at 150kg, and Alcatraz had a solid hookup on a 180 kg blue that wasn't going to give in easily on 24kg and settled in for a long fight.
In fact, about an hour into the battle, skipper James McGinty on Alcatraz had to sit and watch a huge cruise ship appear over the horizon on a course directly towards where they were fighting the fish. He then spent the next 30 minutes tossing up whether he was going to have to cut the fish off or risk getting run down! In the end, they kept fighting the fish, the ship never changed course, and it passed just 50 metres from where he and his crew were still battling the big marlin – a high adrenalin moment to say the least! They tagged the fish about 30 minutes later, but there were some very tense moments sitting there with the fish not budging an inch – and all the while, 100,000 tons of steel was coming straight at them!
At the end of Day One, Black N Blue was in the pointscore lead, with a blue marlin and a shortbill spearfish on the board, and there were 3 boats sharing second place with a marlin each, including Seaborn, with a nice blue marlin caught by junior Nic Edwards, a fish that eventually set him up for Champion Junior Angler. Numerous Mahi-Mahi and YFT were also on the scoreboard.
Day Two started off very wet, but with light and variable winds and great water. The boats that went wide drove right into a cool temperature break on the other side of the EAC, and immediately found large Yellowfin Tuna working patches of bait. The outstanding tuna catch of the day went to Gameful Employment, when skipper Peter English got his boat over a school of really big Fin, eventually boating two crackers – the largest of which was caught by angler Joe English and later weighed in at 78kg! Hell of a tuna…
Several boats eventually found the blue marlin again, with Bear, Long Time Dead and Matador tagging blues. Bear's 170kg blue marlin was caught by junior female angler Harriet Crawley – great effort on a tough blue marlin! However, Seaborn was the first boat to rack up a second marlin when angler Elise Curry tagged a striped marlin to get her crew to the top of the leader board. Black N Blue then made a run at first place by hooking up a nice blue later in he afternoon, but they lost that potentially tournament-winning fish at the boat just before the tag shot, and slipped back to second place.
At the end of the two-day tournament, the competitors had raised 31 blue marlin, tagging 6 of them, and 2 striped marlin, tagging both. One shortbill, and an assortment of mahi-mahi and YFT were also tagged and captured.
Seaborn had a clear lead by the close, and in addition to winning Champion Boat, also cleaned up Most Marlin, Champion Junior, and Champion Female angler, with Black N Blue second, and Secret Mens Business third. Seaborn's skipper, Clayton Livingston followed an outstanding club tradition for this tournament by donating his First Prize money to the Leukaemia Foundation.
This was only the second Heavy Tackle Challenge run by Solitary Islands GFC, but with a growing fleet of visiting boats, and a tournament format and scoring system that is totally different from the run-of-the-mill, this event is already creating a lot of interest and providing anglers with a great couple of days on the water at the end of summer on the NSW north coast.
Thank you very much to Rick O'Ferrall for the wonderful wrap up!