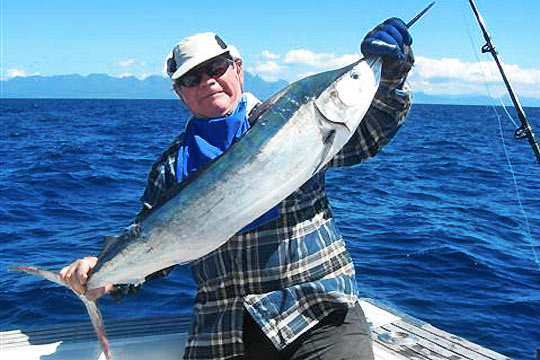 Garry Nichols sent me a very exciting report from fishing on the 30 metre line off Cardwell, North Queensland on Monday. Garry says that two boats, Moonshine of Moonshine Charters skippered by Mick Edwards (Cardwell Port of Call Fishing Supply) and the trailer boat, Glamour Buoy, skippered by Brett Ward, set out in  pursuit of little blacks.   And find them they did!
The idea was to keep via in touch and call in any action. At  9.13am, Garry started things off on Glamour Bouy, tagging a little black (Garry says it was an audible sigh of relief as it was his first black marlin since the early eighties!) They called Moonshine over who tagged another black within five minutes of arrival. The angler was a very excited Lynda Edwards.
About an hour later Glamour Bouy was in total chaos when four rods went off simultaneously and little black marlin were bounding all over the ocean – absolutely fantastic to see! The end result was one black tagged to Brett, his first marlin. Not to be outdone Moonshine called another tag, this time to Eric Lollo (pictured above).
In the early afternoon, Moonshine again called in a double on blacks. Lures and trolled gar were the offerings and Garry says the lures won the day and that all the fish were in the same size bracket as the one pictured (they called them for around 10 kilo).
By my count, that's 6 releases from 9 (or more) raised. Its been a few years since we've seen so many around this early in the season.  And they are the same model of fish that we used to catch at Cape Bowling Green in big numbers, during the season peak in August/September (typically 16-18kg by that time of year).
I spoke to my 'little black marlin' expert (Dad – who says by the way, if this keeps up, he'll have to dust off his rods and reels for the tournament this year) who said that in the past years, its been when there have been good numbers around early that we've had the best seasons. So here's hoping that's true for all along the NQ coast as the season draws closer.
And, lets hope they hang around all the way through to the season – and tell all their mates! Thank you to Garry for the report.
—
But wait there's more!
Word is just in that a couple of Townsville GFC Club boats took advantage of the public holiday day off yesterday to hit Cape Bowling Green.  Stav tells me that Reel Crazy saw three and tagged this one pictured below for skipper/angler Mick Dykstra. Meanwhile, O'Brien Boat's latest offering, OB35 has officially been christened now with its first two billfish yesterday.  Leigh says they tagged two little blacks in the afternoon and raised another and a sailfish. Hopefully more photos to come!
Paul says he knows of one caught at Pixie Reef off Cairns yesterday as well so it seems there definitely are a few around!