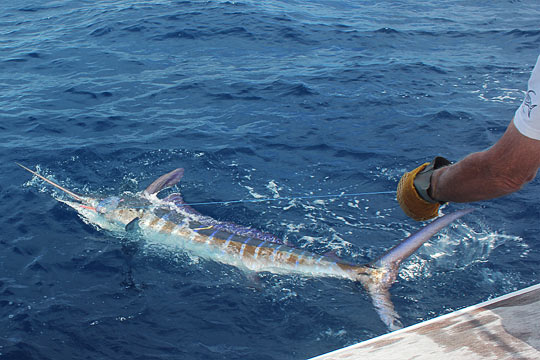 Some of the Gold Coast fleet on the water over the weekend (I heard there was some swell about!) included Mistress who released a blue marlin on Friday and followed up with a first marlin – striped marlin – for 14 year old angler Kyle Fletcher on Saturday (photo above). Capt. Brett says the fish was a potential junior Queensland Record for Kyle who chose to release the fish instead of taking it in to weigh. Barco went 1 from 2 on the blue marlin on Sunday and 4 from 4 on the dolphin fish. Vince says they found plenty of bait and bird activity out past the 600 metre mark. Meanwhile, also on Sunday, Sea Baby IV boated a pending QLD State Record for angler Phil McCloy with a 220kg blue marlin on 130.
Video from Lucky Strike with Capt. Ross McCubbin on their recent 6 from 8 day on blues.

And another compilation from the Findlay brothers on Murrifin which includes some footage from last week's slam (and a bit of Cairns footage as well).

Some amazing fishing has been reported over in the World Sailfish Series hosted in Key West wound up after 3 days of fishing overnight. The first two days of fishing saw over 630 sails released including a tournament record of 362 on Day 1.  The final day's fishing was called early due to safety concerns with the final results to be announced soon.  Sandman, a 63 foot Spencer who also won the tournament in 2011 , was well in the lead on Day 2 with 34 releases. For more, visit www.worldsailfish.com.