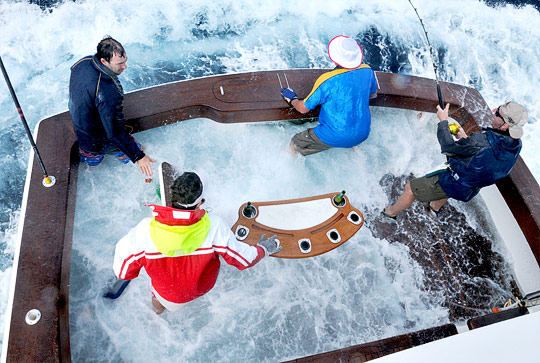 The boys on Gale Force go hard!
The Viking Diesel & Electrics Port Hacking 100 Tournament  was held over the weekend and while the official report is to come soon (its here – read on below) Tag & Release winners on Gale Force, sent me some photos of them in action in pretty rough conditions on the Sunday including the above.  The southerly kicked in a quite a bit earlier than expected punishing the competitors, after a slow day on the marlin on Saturday left the win for the taking.  This was angler John Wise in action as they chased an estimated 50kg striped marlin on 10 kg line (the only marlin tagged for the competition), and combined with the 5 dolphin fish tagged on the Saturday catapulted them into the lead.
Daniel Kirby was at the wheel on the Saturday while Michael Kirby took over on Sunday – those Viking's go hard underwater!  Daniel said they were experiencing 4-5meter waves which were standing up against the strong current pushing down from the north and that it was quite nerve racking looking up at some of the larger walls of water from the bridge!   Photo by Chris Beldon.
Official Tournament Report
The Viking Diesel & Electrics Port Hacking 100 Tournament was held on April 28-29th, with an enormous fleet of 49 vessels comprising of over 160 anglers. The weather provided a mix bag of conditions over the weekend, as Saturday 28th offering up fantastic variable winds and flat seas before an unfortunate strong 25-30knot southerly change early on Sunday morning, making conditions tough for most of the fleet. However many still braved the conditions in search for all species as day one results were quite tight with a few boats vying for champion status. Great water temperature and plenty of bait were around; however it seemed to be the shark boats having more fun as marlin sightings were few and far between.
Day one action saw Junior Riley Page on board BBGFC boat Rampage capture a striped marlin of 82.5kg on 15kg line and Brother Ryan also boat a tiger shark of 177kg on 15kg line.  PHGFC President's boat Dark Horse captured a solid tiger shark of 478kg to angler Stan Dickson taking out Champion Boat and Champion Angler Capture. The shark was also the first fish over a 1000lb to be weighed on the club's new weigh station only installed 3 days before the tournament. Other notable catches were PHGFC boat Spicey Sardine with a 53kg yellowfin tuna to angler John Downey who took out heaviest other game fish category.
Day two saw many vessels spend limited time on the grounds due to the weather, however SGFC vessel Gale Force successfully switch baited a striped marlin on 10KG line in tough conditions and spent most of the fight trying to clear their cockpit of white wash, this tag along with their previous dolphin fish allowed them to claim Champion Boat and Angler T&R for the second year.
The Sunday night presentation was held at the RMYC Port Hacking with over 120 guests; all reports have been that all competitors and sponsors had a great time and are looking forward to next year's tournament in 2013.
Final Results:

CAPTURE:
Champion Boat Capture:  DARK HORSE, PHGFC
Runner Up Boat Capture: RAMPAGE, BBGFC
Champion Male Angler Capture: Stan Dickson, DARK HORSE, PHGFC – 478kg Tiger Shark
Heaviest Other Game Fish Capture: John Downey, PHGFC – 53kg Yellow Fin Tuna
Champion Junior Capture: Riley Page, RAMPAGE, BBGFC – 82.5kg Striped Marlin
Heaviest Marlin: Riley Page, RAMPAGE, BBGFC – 82.5kg Striped Marlin
Heaviest Shark: Stan Dickson, DARK HORSE, PHGFC – 478kg Tiger Shark
Tag & Release:
Champion Boat T&R: Gale Force, SGFC, 12,655 Point
Runner Up Boat T&R: Blood N Guts, SGFC, 2,500 Points
Champion Male Angler T&R: John Wise, GALE FORCE SGFC
Champion Female Angler T&R: Jillian Coyle, ONLINE, PHGFC
Champion Junior T&R: Jack Connellan, TIME TO TANGO, PHGFC
Champion Small Fry T&R: Clayton Rayment, TEAM SEAFLEX, PHGFC
Highest Point Scoring Boat T&R Other Game Fish: LOCKOUT, BBGFC