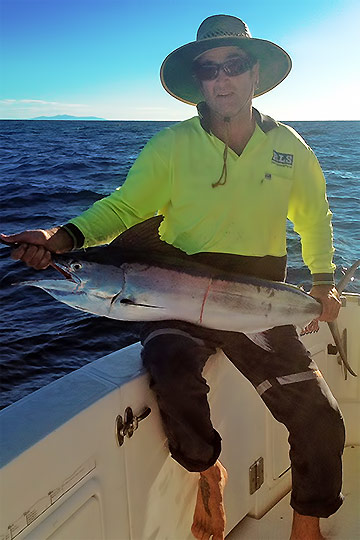 Another report from the weekend to get Townsville anglers excited. With the main season still a couple of months away, the first year juvenile black marlin seem settled in at Cape Bowling Green. TGFC club boat Rose Red headed out for an overnighter behind the spit tagging two juvenile black marlin from 5 bites on Saturday and 2 from 2 on Sunday.  As you can see from the photo, they are the same model fish around that 10kg mark.
Anglers Vince McGlone and Dean Winter (photo) each tagged two and Anthony is putting together the video of the crazy fish antics which included one wrapping itself around the tag pole and a second landing on the duck board!
Anthony tells me they had such a ball on Saturday it was only reluctantly that they headed behind the spit for the night – pity you don't catch them at night he said! (but with the super-moon on show, maybe you could have!;-)  On Sunday they had to head back in early so missed the afternoon bite finishing with a total 7-6-4 for the weekend.
Thanks so much to Anthony Richardson for the report!