Cairns Marlin
Just in case anyone thinks that Townsville has been having all the fun, I'm happy to report that the juvenile black marlin are still off Cairns as well. Spread 'em reports another 5-4-3 small black marlin released off Oyster Reef on Saturday. Thank you to Paul for the report!
Hopefully more reports as the weather allows and in the leadup to tournament season. The light tackle marlin tournaments coming up this season in Cairns include the Yorkey's Knob Boating Club's Light Tackle Slam on August 17-19 and the Cairns BlueWater Billfish Tournament on August 22-25.  If you have any events to add to the BMFB Tournament Calendar, please email me the details.
Townsville & Cape Bowling Green
I reported last week about 81 year old John Gilbert's two black marlin on board Maverick mid-week and co-owner and John's son Greg has given me an update from their weekend at Bowling Green just gone.
Greg says Saturday's 12-9-5 was made up of four black marlin and one sailfish.  Donna Stark caught another two marlin to add to the three she caught with John on Thursday.  And Greg accounted for the other two marlin and the sail.
On Sunday Donna caught another three and her 10 year old son Harrison Stark caught his first ever billfish as well – congratulations Harrison!  So as reported, that fourteen billfish for Maverick in the last three days fishing (and some other gamefish). As Greg reports, Cape Bowling Green is certainly firing this year and he hopes to be out there on the water enjoying it as much as the weather allows this year!  Thanks Greg!
The Townsville Billfish Challenge is on August 30 to September 3. But the first of all the NQ Tournaments is the Lucinda Light Tackle coming up on July 21 and 22.
Much more from the weekend in yesterday's report.
SEQ Blue Marlin
David Trask from Big Business reported a 1-1-1 blue marlin of over 500 lbs at Cape Moreton on Saturday in what David reports was very cold water.  On the Gold Coast, Vince on Barco has not had as much luck marlin fishing that last 2 days for donuts. Vince tells me the water temp off the Coast was a nippy 21.8 degrees.  Gold Coast boat Addixion hooked a black marlin fishing off the coast on Saturday (unfortunately the hook snapped a couple of minutes into the fight).  After busting off the black Chad headed wide and found the yellowfin hand caught a double of 20+kg models.
Bermi Bluefin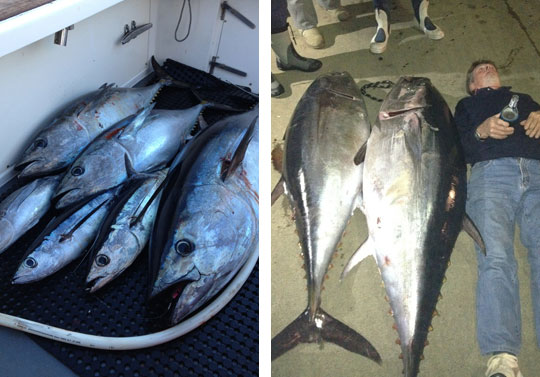 The Ultimate's Capt. Ryan Capp reports good fishing for the bluefin tuna off Bermagui.  The first big fella was caught on the Ultimate on Sunday and weighed in a 80kg.  The second photo is from private boat Seafari and went a massive 103kg!  Ryan says that there are plenty of 30kg models around and albacore as well!
Aussie Slam
I usually leave the overseas reports to those who fishing in those locations and understand them so well but hats off to a well-known Aussie fishing overseas with Cairns marlin season Cairns Tim Richardson in the Dominican Republic to complete his billfish species bucket list with a white marlin.
Rolf is a Lizard Island regular and hails from Port Lincoln (and incidentally related to the above, Rolf's son Ralph was the previous owner of Maverick when it was Spartacus….have I confused you yet?)