Little black marlin in the north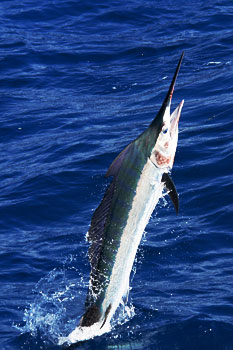 With a couple of days of good weather coming up again in Townsville, a few more reports are filtering in.  Chris Davidson reports a 2-2-1 black marlin at Bowling Green yesterday in pretty ordinary conditions. Chris says that he wasn't quite sure where he was fishing due to a GPS problem but is heading back out there today to try again!
There have also been early season reports of the little blacks as far down as Yeppoon. Scott from Bite Me Marlin Charters Yeppoon also went 2-2-1 on the little blacks on his first marlin trip of the season last week. Scott says there is plenty of bait around, and there seems to be a few sails around as well with another Yeppoon boat reporting of a pod of about 8 sails feeding on a school of bait to the north.
Bluefin, Yellowfin Tuna and Albacore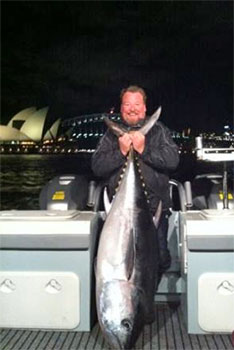 A catch up report from Mickey from last week on the tuna grounds down south. Rob on Marquis reported a 78.5kg yellowfin and tagged another 3.  While Greg Lee on his 25′ Contender NEXT found a bunch of albacore and also managed some nice yellowfin to 40kgs on the cube east of Browns Mountain. He got one of the yellowfin on his first bait in the trail!
Sydney boat Tintola got into the yellowfin and albacore and topped the day off with two bluefin to 70kgs. This is a great shot of one of their fish with the Opera House and Harbour Bridge in the background.
Also Scent Blazer Lures got into the action going 3 from 5 in a mad five way hook up on big bluefin to 100kgs.
Hopefully if the weather settles we will hear some more reports.