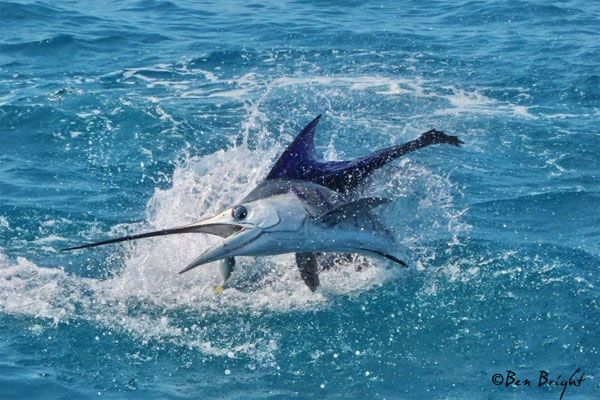 After a day out on Thursday (one sailfish from two), Ben reports that he wasn't too keen for another try on Friday but Alan "Fish" Philliskirk and mate Gaven Roberts needed crew, so he was it.  Turned out to be a great decision with the best Queensland sailfish report in years – and on the west coast at that – with more than 30 raised in just a few hours after lunch!
The plan was to get Fish a sail on fly and to have a livie rod rigged in case the fish was a bit fussy, so they just trolled 2 teasers, and left all the conventional gear at home (save for 1 spin rod).  By midday they hadn't seen anything – no bait, no birds, boring.  And just like the like the day before, they were hoping to trip over a lost one.
A massive bunch of birds suddenly formed up just over a mile away, so they wandered over, to find bait, heaps of dolphins and even a few Brydes Whales – as big as humpbacks. The first fish looked at both teasers and faded – and they were left hoping desperately this was not going to be the only activity for the day.
Then 2 came up and teased to the boat, Fish got a bite and pulled the hooks. Ben pitched a livie and caught the other.  After that they kept coming up in 2's and 3's with much the same result each time.  They had 2 pods of at least 5 and at one stage Ben rigged a large teaser mullet which lasted 5 min – quite funny as he wrestled the fish, lots of speed and a locked up drag saw a 100lb marlin come backflipping out of the water – with his mullet down the hatch!
At the same time Gav teased in a sail on the other teaser which Fish cast to, got the bite and cracked off!  By then they were out of gear and dead in the water. Ben was figure 8'ing the mullet beside the boat and getting piled on by this angy black – all at patting distance.  Gav pitched the livie, which got creamed by the marlin, but the hook fouled and the bait pulled straight out, so the sail then ate it, the marlin got tangled in his leader and both fish started gagging.  Luckily the fouled bait pulled out, freeing both fish which then tried eating Ben's recast teaser!
Fish was re-rigged by now and they re-teased the black, had a cast and got a cautious bite, but no hookup!!  Ben says it was the funniest way to not catch a fish!
They eventually faded and while the final stats are a bit cloudy, they tagged 6 sails, Fish got 9 bites on fly (it was hard because often the teased fish wasn't the one that bit the fly – too many at once!)  The others were on pitched livies and who knows what may have been if they had more rods with them.
And it was Gaven's first sail, although he's caught blacks before. What a day!
Thanks Ben for the awesome report. I know he's heading out there again today so I hope he stumbles across them again!