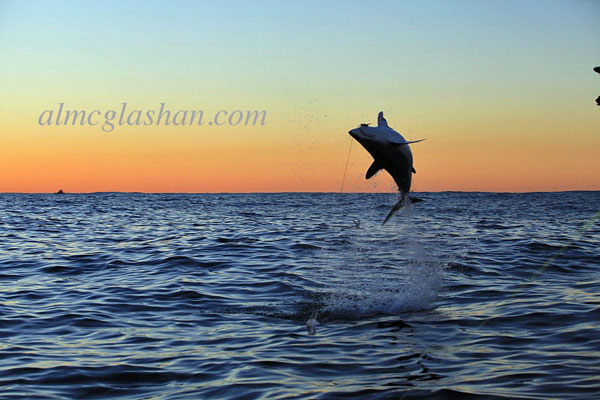 Some more wonderful action shots from Al McGlashan who has been been satelite tagging and taking blood samples from mako sharks for the new TV series of Big Fish Small Boats. Al said it been the best fishing off Sydney in decades and these shots are simply stunning!
NQ Billfish
Still lots of boats getting in on the action even if the weather is not playing along for more than a day at a time (and COLD!! brrrrr)  Boats getting out for part days tagging one or two before beating the wind home.
The Tinnie Shack's Dean Grieve took wife Carla out to try for her first billfish on Thursday behind Hinchinbrook Island.  Three hours later 4 raised resulted in a sail and a black hooked but jumped both off. The next morning she made up for it however with her first billfish, a sailfish tagged at Yamacutta Reef.  Big congrats Carla! Dean also told me that Denis Daly and Gavin Goodwin fishing on Fishin' Mission off Mission Beach also had a two days on the water with 5 black marlin up to 40kgs.
Fans of fishing in NQ should be sure to tune in tonight to the first in a 10 part series of Line Burner on Foxtel/ Austar Channel 183 at 8.30pm. Fully produced from FNQ the series covers all the fantastic outdoor experiences the region has to offer including the Great Barrier Reef, the Daintree Rainforest and the rugged Cape York Outback – game fishing for black marlin, reef fishing, light tackle fishing, beach fishing, river fishing, mud crabbing, outdoor camping and 4WD trips.
Gold Coast Black and Blue Marlin
A video from the Larva boys from their black and blue marlin last week.