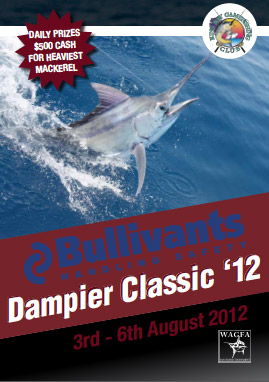 The 2012 Dampier Classic wound up fishing on Monday and with the presentation only being held last night so I have to say a big thank you to Steve for the timely tournament report.
Steve says it was another big week and that the weather was wonderful with a couple of days blowing less than 10 knots.
With 39 boats and 140 male, female, junior and smallfry anglers competing 118 billfish were tagged (103 black marlin and 15 sailfish).
Champion Boat, Scott McGowan's The Wench made it back to back wins with 17 black marlin tags.
Champion Boat in the capture division went to Raddler and Champion Boat T&R Gamefish to Tourettes.
There were also some significant captures including a 365kg tiger shark on 8kg as well as a few Australian records in the gamefish section including a 7kg broad bar mackerel on 1kg line class.
Congratulations to everyone who competed!
More Marlin Than Sailfish
I find it really interesting once again to note the number of sailfish tags compared to marlin again this year and how much the balance has changed since 2009 and the overall number – holding steady since a dip in 2010. (And in case Moose is reading – hi Moose! – almost exactly the same number of boats fishing the four days of the tournament again this year.)
| | | | |
| --- | --- | --- | --- |
| | Sailfish | | Marlin |
| 2009 | 291 | | 53 |
| 2010 | 46 | | 12 |
| 2011 | 12 | | 126 |
| 2012 | 15 | | 103 |