Blue marlin for Ron Smits
Black marlin for Daniel Burke
While 2012 has already seen great marlin fishing in Port Stephens, great marlin fishing in North Queensland currently underway and great billfishing in the West. But the Gold Coast has been Mr. Consistent for 2012 with seemingly good fishing every time the weather allows.
The team from Larva Lures kicked off the 2012-13 club year's point scoring for both Gold Coast GFC and Surfers Paradise GSFC on Sunday tagging a Gold Coast blue marlin in the morning and a black marlin in the afternoon. Daniel reports they had a couple of chances of converting a grand slam with striped marlin that they couldn't quite get to stick.  They finished with a 6-4-2 and shared these great pics of the action. The blue marlin was caught by Ron Smits and the black marlin by Larva's Daniel Burke.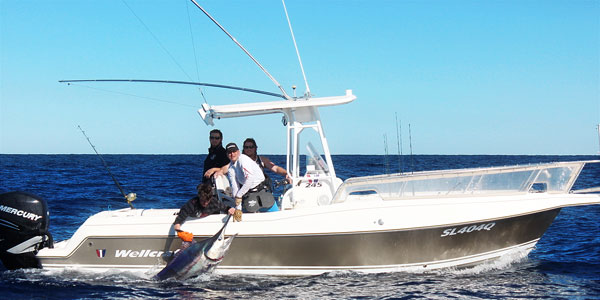 They also snapped this shot of Little Jugs who were fishing nearby tagging this blue marlin and also dropping a striped marlin for a 2-2-1.  Capt. Ross McCubbin's Lucky Strike also tagged 100kg stripe just trolling 2 flat lines between bottom fishing spots!
Addios also dropped a marlin going 1-1-0 on a half day out while down at Tweed Canyons Ramjet hooked a blue on the deep drop gear but snapped the swivel once it started jumping on the surface. Thanks Daniel for the reports and photos!
More Video Actions
Speaking of Port Stephens, Jay (aka Junior) on Flying Fisher has added another cracking video from their season at Port this year. Here it is below: