Aside from the awesome sailfish in Weipa report from Ben (in the post below), with the weather cooperating all along the North Queensland coast, the billfish starred again on the weekend.
Townsville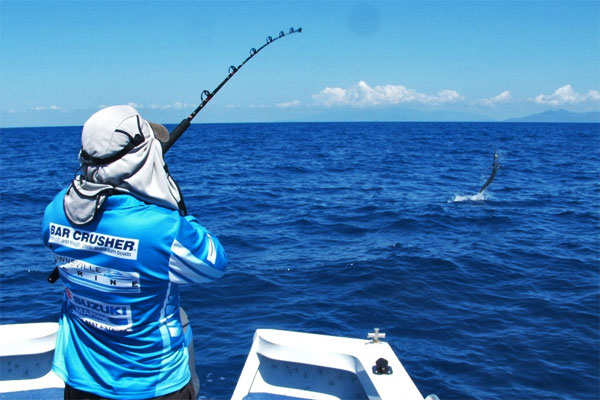 With the Billfish Challenge countdown on in full (T-minus two weeks now – starting Aug 30), TGFC club boats took advantage of the great conditions to for a tourney pre-fish.  While there weren't great concentrations of fish, they were caught all the way along from the Palms to Bowling Green by boats of all sizes.  Husband and wife team Mick and Lee on Reel Crazy finished their weekend with 6, wandering around here and there from Thursday through Sunday.  Gary Powis's 4.6m Tabs Fish-A-Bunga had good Saturday on the northern grounds with a 10-6-3 (1 sailfish and two black marlin).  Gary said the bait was a little hard to find, but the bait they did find had fish on it.  At one stage all four lines were hit by a pod of small sailfish but they only managed one from that (thank goodness said Gary!) Photo from Fish-A-Bunga above.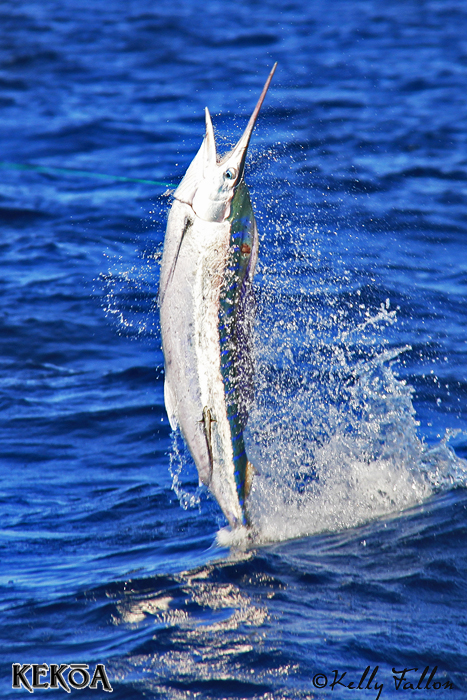 On KEKOA we released 4 from 7 (3 blacks and a sailfish) on our first trip to Bowling Green for the year having only arrived in Townsville last week. Again, we didn't find much bait but when we did, we were able to raise a fish.
The Young Guns, Luke and Ethan, added another black to their season tally on Saturday, as did Mick Meiers and team on Rampage.
(Action shot from KEKOA left.)
While Michelle and Peter on Midnight tagged four on Sat/Sun at the back of the island.


Cairns
The Yorkey's Knob Boating Club's Light Tackle Slam was held over the weekend with 15 billfish tagged by the fleet in the two days fishing. Capt. Damien Collette's Saltaire kicked off the fishing with the first tag just 45 minutes after lines in.  Report to come tomorrow.
This week the Cairns Bluewater Billfish Tournament will be hosted at Fitzroy Island with the briefing Wednesday and fishing commencing on Thursday.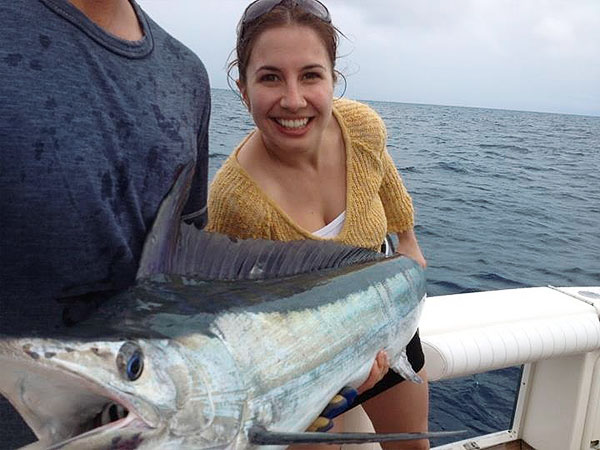 This photo above from Joel on his boat Maverick whose wife Ingrid caught her first marlin on Thursday. Congratulations Ingrid!
Innisfail
The Innisfail Billfish Tournament, to be held on 28-30 September (and added to the calendar) is another tournament looking forward to benefit from the great fishing in the north this year.
Tournament Director Ben Heath tells me that, as reported, local Brett Ward has tagged 10 marlin already this season, mostly fishing solo. By the same time last year he had only caught one and so its a big improvement on the whole.  They have seen the average size of the fish grow from 10 to 15kg over the past few months and they should be up to 20kg by the time the tournament rolls around which all makes for exciting fishing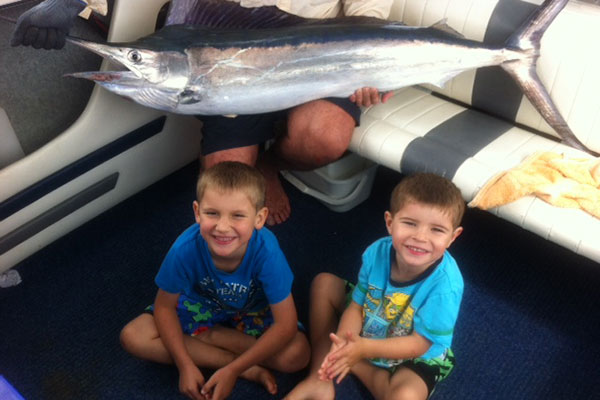 Ben sent me this photo of Darren Halpin holding a black marlin for his children's first catch (Harry and Oliver Halpin) before release and caught yesterday off King Reef trolling for mackerel.
I also heard from Grant Thomsom's Cjig who zig zagged all the way north from the Gold Coast to Cairns arriving over the weekend. Grant says there's not much evidence the little blacks have moved in further south as yet. They didn't raise a fish until two on Bowling Green on Thursday and dropped another at the back of the boat off Hinchinbrook, and had another shot off Yamacutta Reef.  Grant says the mackerel fishing was good and they also got some nice reefies on the way through.