Many thanks to Stuart for the tournament report.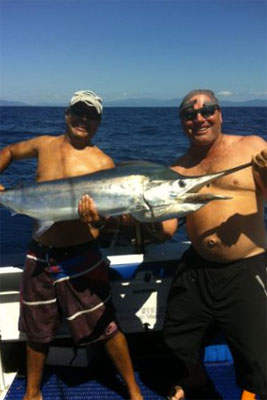 With the weather expected to be far from ideal (although for once the predictions were wrong in the anglers favour!) 15 boats were entered and departed from Yorkey's Knob Marina for the shot gun start on Saturday morning.
The action started shortly after start fishing was announced with Saltaire tagging the first of many black marlin at 8.45am.  The bite continued through until mid afternoon with dozens of fish raised and a total of 12 fish tagged for the day.
Unfortunately the weather on Sunday was not a repeat of Saturday with a solid 20knts reported from most areas, gusting to 25.

The fishing also seemed to die off as the weather picked up, however a late bite saw another 3 fish tagged again with a considerable amount raised.
Update: I spoke to winners Cool Runnings John Clayton who had Cairns local and world-renowned boat builder Dick Ward fishing with him on board the Dick Ward built boat. John says that the fishing was pretty hot for them on Saturday when they converted 6 from 8 black marlin, 4 for John and 2 for Dick including 4 in an hour and half before lunch!
Final Results
Under 7.5m Champion Boat     
DEKS   Skipper & Angler David Cordukes / Anglers Adrian Froggatt & Mike Dowling
(Photo at top of the action on Deks.)
Under 7.5m Runner Up Champion Boat 
The Edge
Over 7.5m Champion Boat  
Cool Runnings   Skipper Troy Dalman / Anglers John Clayden & Dick Ward
Over 7.5m Runner Up Champion Boat
Saltaire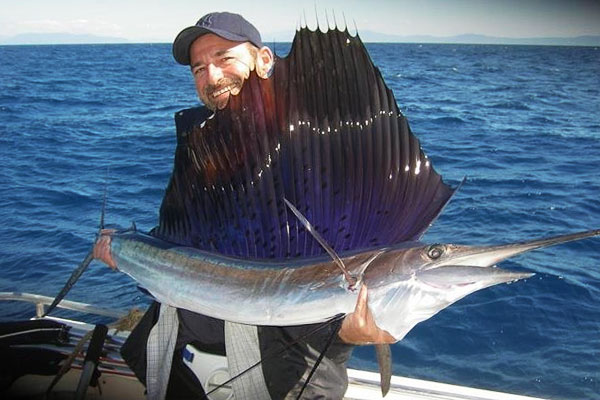 I also heard from Nick O'Connor who fished the tournament on his boat "No Name" and ascomplete novices, got up to claim the second runner up position in the Under 7.5m category. Nick says that an intense lesson on the basics, and a couple of tips on locations, from club organizer Vic on the briefing night paid off with partner Darren "Rossco" Ross tagging a sailfish (photo above).
Nick also experienced the thrill of hooking to his first marlin and seeing it charging off across the paddock, but unfortunately it was lost after it throwing the lure.
Nick says they have the bug now and will certainly be out there again soon in their (borrowed) Stacer 4.9 chasing more marlin with thanks to the great team at Yorky's Knob for showing them the ropes! Big congrats!