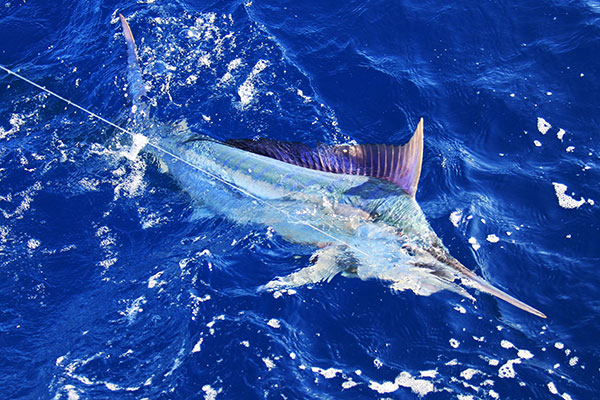 I've heard that there were 53 billfish tagged for Day 1 of the three-day Cairns BlueWater Billfish Tournament currently underway and hosted out of Fitzroy Island.  Capt. Chris "Sharky" Miles' Kanahoee is one of the boats which are leading from the front with  6 tags while several other boat's including Barbara Leptig's The Edge with Steve Leptig at the wheel has 5 (although Barbara herself is not fishing).
You know the fishing's good when an urgent call goes out to nearby clubs for more tags!
Update for Day 2
Anglers from the Mission Beach GFC, fishing on Secret Agent, a 5.2m Kevlacat, tagged another two fish, bringing their 2-day total to seven and putting them in front. Kanahoee skippered by Chris "Sharky" Miles  and The Edge, another 5.2m Kevlacat, skippered by Steve Leptig (Mission Beach committee) each added only one tag on Day 2 to make up the rest of the leaderboard.  Club Captain Terri Morgan reports that there are four ladies with four marlin tags each, so the champion female angler will be a close finish.
A total of 40 billfish were tagged on Day 2.
Thanks Barbara for the updates.
Update for Day 3
Another 35 or so fish tagged on the final day. I won't spoil the fun for the tournament report but the winning boat got 10 tags to narrowly edge out a couple more on 9.  Full report coming up on the blog tomorrow.  Here's a photo Barbara sent me from Terri on boardThe Edgewho finished up with 9 tags but out of the placings on countback!