If you are on the BMFB facebook page you would have seen the report of more black marlin off the Sunshine Coast yesterday. Mooloolaba GFC's Nathan and Wayne Douglass, on board their boat Luna caught two black marlin out of a potential quadruple header. It's fairly early in the year for the fish to be showing up down that way, but is a good sign for the SEQ season ahead!
This is in the same week that boats heading into Townsville from the south (Airlie Beach/Whitsundays) have been reporting fish all the way along.  Levante released 6 blacks and two sails on the way through arriving yesterday. And Kanahoee got four and Gorilla two on a tournament pre-fish yesterday as well.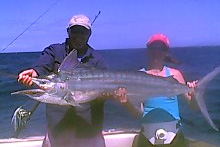 And there are still plenty of little ones in Cairns too. Gavin "Groover" New sent me this pic of wife Kim who caught her first three black marlin and first sailfish with Groover and Brendan on Rob Bonser's Pirate on Sunday.


I'll be blogging the Townsville tournament as it unfolds starting tomorrow – fishing days Friday, Saturday, Sunday and Monday – with a daily wrap up report. But if you can't wait until then, I'll be blogging the daily skeds on the Townsville GFC Facebook page here.