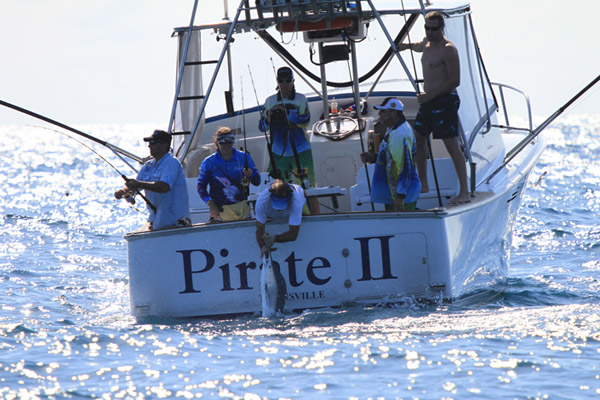 No gains were made against MOJO's lead on Day 2 of the Mike Carney Toyota Billfish Challenge. In fact, they just keep charging further in front returning to Port last night with 21 tag flags flying (including sponsor flags doubling as tag flags) to make up the number of billfish tagged over the first two days.  The added 8 tags on Day 2 (7 black marlin and 1 sailfish) and are so far ahead of the fleet, there was talk about a lazy lunch out the back of Maggie Island today.
But there are still plenty of other boats in the hunt for the minor placings with another 50 odd billfish tagged yesterday.  Also having a great run on Day 2 was the young guns on Yanmar who tagged 5 out of their 5.49m Stacer.  The team on Pirate II also got going early with 4 by the second sked.  And kudos to the team on board the 4.2 Mangrove Jack who fished the whole day amongst the big(ger) boats despite the wind picking up to 15 knots by lunchtime.
In the placings, Mojo are in the lead in the Under 8m category on 21 tags from both Annie B and Yanmar on 6 and Aquaholic on 4.
In the Over 8m category, KEKOA added three more tags to bring the tally to 7 so far to lead OB1 on 6 and Kanahoee and Pirate on 5.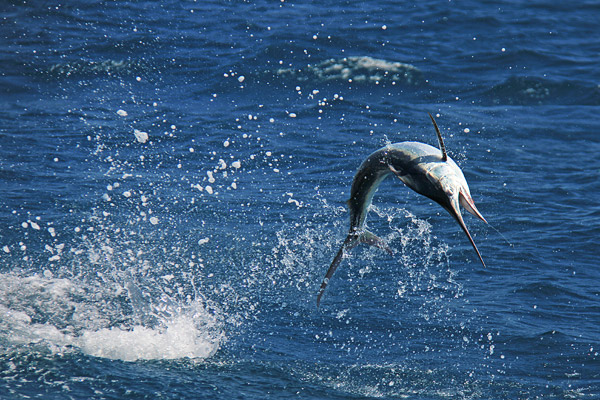 Another black marlin soars behind KEKOA
**Once again, if anyone has any corrections (sometimes I miss details when we are on a fish 

) please send me to info@blackmarlinfishingblog.com or by text 0434 520 343.