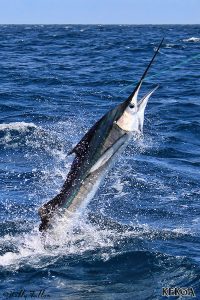 I'm rather time short this morning so I'm just going to give an update on the scoreboard – as I have it at the end of Day 3 (apologies for any errors – this is my un-official count).
On the whole, Day 3 was slower fishing than we have seen so far and because of the weather, some of the small boat competitors elected not to fish at all.  Boats in the Under 8m category use their best 3 day's fishing for their results. It's a no-brainer that Mojo will be dropping Day 3 after having a day of boating on the water, rather than fishing!


Over 8m Category
KEKOA on countback from OB1 both on 9 tags. Followed by Kanahoee on 7, Pirate 2 on 6, Blue Moon and Maverick on 5, Sea Baby and Far Cry on 4, Levante on 3 and Burgandy Lady, Cool Change, Gorilla and Rose Red on 2.  Disco, El Dorado and Reel Deep on 1.
Under 8m Category
Mojo on 21 from both Annie B and Yanmar on 7, Aquaholic and Team Tackleworld on 5, Princess C on 4, Elektrakushen, Midnight, September Blue and Striper on 3, Bad Company, Ruffian, Special K and Tomkat on 2, Flotation, Mangrove Jack, On The Bite and Kracken on 1.