Ben Heath reports 16 tags on Day 1 at Innisfail. The leading boat on 2 tags is the Collins brothers' Wombino from Ben's team on Gorilla with Capt Brett Thomas and John and Brenda Becl's On Strike on countback. 10 teams each have one tag so the game is wide open!
There were also 23 gamefish weighed including a potential female World Record Spanish mackerel for Andrea Kassiotes on New Moon with Capt Kim Andersen that weighed 28.44kg on 10kg line.
I also heard from Capt. Steve Ahlers on Hellraiser who has been fishing the top over the past week finishing up 4 from 6 on fish between the 250 and 450lb mark including this one for angler Simon Atkinson from the UK who was fishing with mate Mick Mirina. Steve says they've been raising quite a few but they are a bit slow to bite over the past week. They saw 3 big ones with only the one having a bite and putting her bottom jaw through the bait.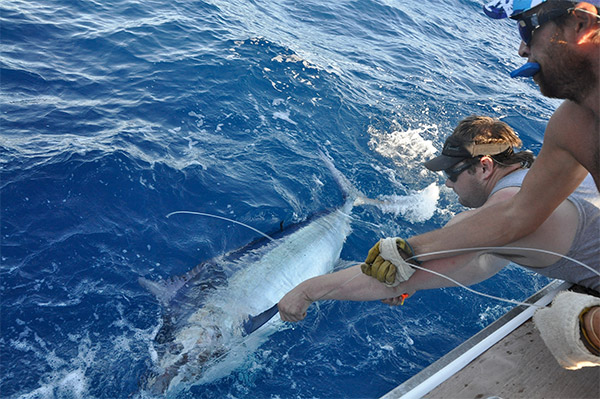 Also on Number 10 yesterday, Grant on Cjig released one at 450lb. Grant says he's starting to mark many more fish as well.