The Innisfail Billfish Tournament kicks off today with the largest number of participants since 1989!  Tournament Director Ben Heath tells me that they have 34 boats and 140 anglers registered, including 9 juniors and 30 lady angler.   Teams are set to spread wide in the hunt for the little black marlin with boats traveling from both the north and south tagging fish on the way to Innisfail yesterday, including both Gorilla and Kyrenia heading down from Port Douglas.
Stay tuned for the daily updates from tomorrow.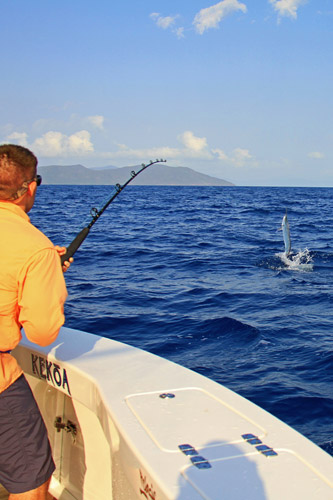 Back up at Cairns, the light tackle season is winding up, as more and more switch over to heavy tackle. On KEKOA we fished our final light tackle day yesterday for 2 from 3 and switch over to heavy next week.  Yet another of the southern fleet arrived into town yesterday as well with the arrivals of Capt. Simon Carosi on Afishionado and Capt. Ian "Wobbles" Ford on Hot Shot.
Capt. Tim Richardson and the team on board Tradition begin their heavy tackle season today with Lydie Fayard and her husband Pete back on board chasing the record on 50lb.  Good luck Lydie!

Grant Thomson and family on Cjig are returning south after making it all the way up to Number 10 Ribbon over the past few days (where the wind is blowing pretty good according to Grant). Young Julian caught a 350lb blue marlin on a lure wide of Ruby Reef on Tuesday. They also jumped off another nicer black around the 650lb mark on bait later in the day before continuing the trip north. Up at Number 10 Ribbon yesterday, the missed two smaller fish around the 250lb mark.
Coffs Action at last!?
Rick reports that the fresh blue water started flowing down the shelf off the Coffs Coast last week, and it's been game on for Solitary Islands GFC boats.
Black N Blue got into some yellowfin last week when the first of the fresh water appeared, and on Sunday, Seaborn and Foreign Exchange both found striped marlin at the edge of the current. The two boats were three miles apart, but both got hits from striped marlin within 3 minutes of the top of the tide. Sadly, both fish ran 100 yards and dropped the lures, and that was it, but they were the first marlin raised here for weeks. By Wednesday, the current had started flowing properly again, and Jason Carroll took Bear out for a look and got right into the YFT action – fish to 40kg jumping all around the boat, and lots of hookups. In the end they stopped fishing because they had to go home, and they left the hot bite behind.