Report from Capt. Brett Alty on Mistress who fished from the middle Ribbons up to the Rock (Lizard Island) with a fish a day. Brett says the fish are all in the 250-450lb range and he sent me these action shots taken on the sunglasses camera.

I also had a report from Capt. Daniel Carlson on Little Audrey  who is fishing up at Number 10 Ribbon with owner Vicky Webster and friends on board. Dan reports three marlin bites over the past three days fishing, missing one about 650lbs and releasing a 500lb-er and 200lb-er.  The sport fishing has been pretty good and keeping the girls occupied with plenty of mackerel, tuna and trout to go around.
Weipa Billfish Tournament Report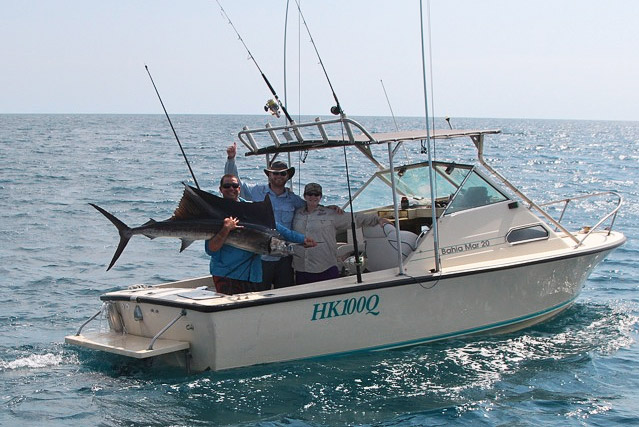 Darren's last fish on Tag Team and a happy team taking out the comp!
A report from Ben "Notso" Bright after the wrap up of the second annual Weipa Billfish Tournament yesterday (thanks Ben!).  The three day event saw 31 fish tagged amongst the 11 boat fleet, although not all 11 boats could fish all three days.
Champion Team – Tag Team with 7 sails and 1 black, (Darren Lee, Nikki Perriman and Peter McNaughton) from Envee with 7 sails
Champion Angler – Brett Young with 4 tags (Envee) from Peter McNaughton (Tag Team)
Champ Female Angler – Louise Pearce on countback from Nikki Perriman (who is 7 months pregnant by the way, sorry Nikki for pointing that out but it's a great effort!)
Champion Junior Angler – Reece Singleton from his brother Aaron on countback.
Heaviest Gamefish – 10.25kg Spanish mackerel – Louise Pearce on Envee
First Billfish Tagged – Darryl French (Striper)
Last Billfish Tagged – Darren Lee (Tag Team)
Day 1 saw Striper off to an early lead with the first fish tagged in the first hour and Envee finishing the day with 2 and Tag Team also with 1.  On Day 2 there was a hot bite for some and Envee streaked to a good lead with another 4 tags (and missed quite a few too by the sounds of it).  Tag Team added 2 more and Striper another couple also.  Manyana (without a sounder) was steadily picking away with 3 fish in only a few hours as well.
The final day saw a slow start but by lunch time Last Cast had 2 and Tag Team added 2 more. In the last hour Envee picked up their 7th fish and looked quite comfortable in front, but in a classic tournament twist, with only 3 minutes to cease fishing, Tag Team called in hooked up…………. to a triple header!! And they got all three to finish on 8 and take out champion team. What a finish!
Innisfail Billfish Tournament Report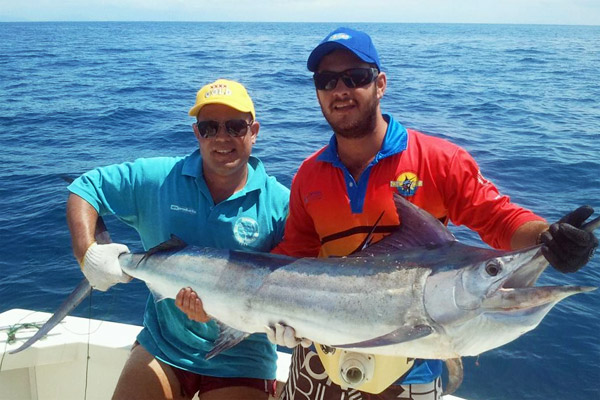 Charles Camgulia and Chris Kassiotes from boat Dream Time on Day 3
Champion Boat Over 7.5m – The Collin's family's Wombino of Mission Beach from Askari on countback with 5 billfish tags each and just a 7kg Spanish mackerel separating them.
Champion Boat Under 7.5m – The General with 2 tags from Chestoo on countback.
Heaviest other Gamefish – 28.44 kg Spanish mackerel caught by Andrea Kassiotes on New Moon.
Champion Male Angler –  Darren Halpin on Askari
Champion Female Angler – Sophie Currey on On Strike on countback from Lisa Goodwin on Mauna-Kai.
Champion Junior Angler – Harry Collins from Wombino from runner up Michael Bolton on Jimmy.
Overall 32 black marlin and 11 sailfish were tagged over three days between 34 boats.
In another exciting finish, Wombino only took out the tournament with their Spanish mackerel with just five minutes to go from Askari.  Wombino's Rod Collins has fished every Innisfail Tournament but one since the first event in 1978 and this is his fourth title. Third was local boat Dreamtime from On Strike from Cairns.
The Champion Cassowary Coast Regional Council Angler was Chris Kassiotes from Dream Time  while Champion Angler in the battle between the Cairns Blue Water and Innisfail Game Fishing Clubs was Brenda Pecl with seven billfish.
Thanks to Ben and Christine Heath for the updates and final tournament report.
Cairns Light Tackle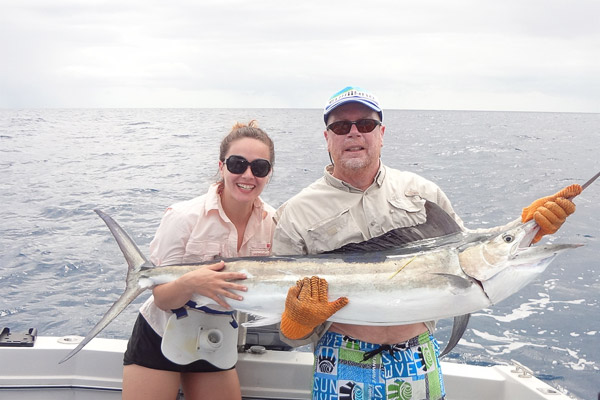 Steve reports another good weekend on the light tackle out of Yorkey's Knob on Stressless with Hank tagging his first small black on Saturday. A second got to the teaser, and Hank deployed his fly, getting some attention but decided on grabbing the port rigger. Meanwhile Steve's daughter Elissa and her friend both tagged their firsts on Sunday and missed a second each later in the day with Stressless winding up 8-6-3 for the two days fishing.