Peaking a day too late?  Ben "Notso" Bright raised 9 sails yesterday in two's and three's, the day after the end of the Weipa Billfish Tournament ended (see yesterday's post for the tournament results.)  Just to make things harder for himself, he tried to hook another on fly, but in the end, had to make do with just the two conversions on pitch baits on board as back up!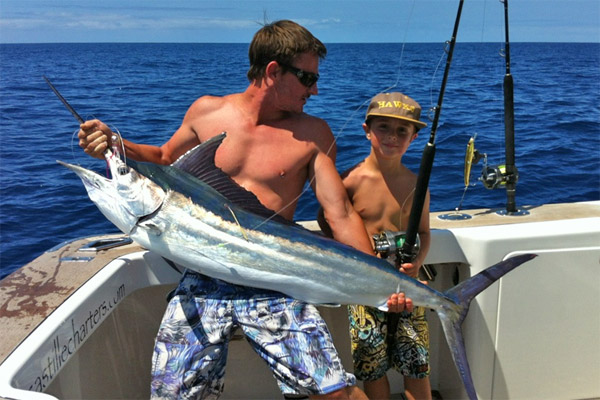 More first billfish stories – Capt. Brad Craft sent me this pic of his son Jack who at 7 years old, is following in Dad's footsteps and caught his first black marlin on Castille III.
I also heard from Paul Poulter on Think Big  whose son Adam captured a pending state record cobia at the Innisfail Tourney on the week (tournament report also in yesterday's post).  Paul says they scored several field goals trolling home from the comp on Monday and also tagged a 40kg sailfish for wife Sharon.
Tim Dobinson tells me he fished with Andrew Kerr on Sunday out a 4.6 Allycraft tender to go 1-1-1 on 8kg within the first hour of putting the lures in with a nice black of about 100lbs on the inside of Escape Reef – the fish was  Andrew's first Marlin.  Tim says, with only the two of them in the tinny in some rubbish conditions in the morning (prior to it glassing off) they had a fair bit of fun chasing the fish around for 30 minutes.
Heavy Tackle
Capt. Tim Richardson on Tradition had his first warm up in the record chase for Lydie yesterday hooking up to a black about the 600lb mark at the bottom of the Bank – unfortunately the fish jumped off soon after. Tradition is available 15-18 ex Cooktown and November 5-14, please contact Tim with any inquiries on 0427 758 768.
And at the other end of the reef, Capt. Brett Alty on Mistress reports a 300lb-er released at Hicks Reef.  Ryan L is looking for someone to share a trip with him on Mistress October 17-18. Contact Ryan directly if you are interested.