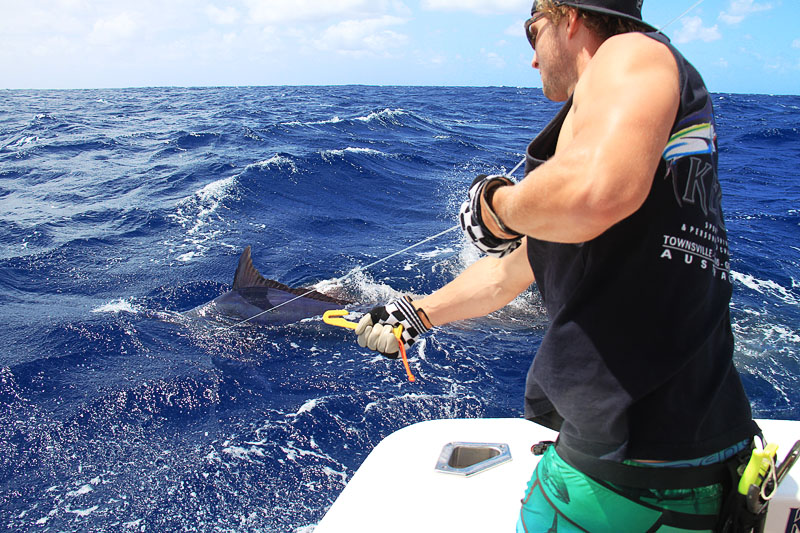 The last few days have been pretty blowy on the GBR leaving many of the recreational fleet in port. But the professional marlin fleet have still been fishing up and down the reef – and will be buoyed to see the good weather on the forecast for next week.
And it seems like after a relatively slow start more fish are starting to show up all along the reef as evidenced by the number of tailers seen in the big waves.
First report from Capt. Ian "Wobbles" Ford on Hot Shot who released a 500lb black marlin at Number 5 Ribbon on Wednesday on their first trip of the season.  Yesterday, he added two more around the 400lb mark, also at Number 5 Ribbon.
Likewise on KEKOA, we started our heavy tackle season yesterday with a day trip out to Jenny Louise Shoal where we released two at 350 and 250lbs for US couple Matthew and Ashley – both their first black marlins.  We saw three more smaller fish cruising around in the big waves, although they were not too interested in eating.
Capt. Brad Craft on Castille III also reports seeing 5 yesterday for a couple of bites and a successful release of a smaller fish on Opal Ridge.
A bit further to the north Tradition jumped a fish off at Escape. And Kanahoee started a trip right up the top, jumping one off at Hicks.
Racapture information from NSW DPI
I also heard a very interesting update from Adam of NSW DPI (who run Australia's tagging program) about some recent black marlin re-captures/re-tags. During the Townsville tournament recently, local boat Far Cry tagged two black marlin within 5 minutes of each other off Cape Bowling Green. Exactly one week later, the first of those blacks was recaptured by us on KEKOA on the way to Davies Reef about 15 miles away. 3 days later again, the second fish was recaptured on Tradition, approx 90 miles to the north, north of Dunk Island.
What an amazing coincidence that two fish caught within five minutes of each other, out of all those fish caught during the competition, have been recaptured again so quickly and yet so far apart!!