As predicted, the fishing just turned it up a notch with Friday on the reef, being an all over better day. And a top notch day for some as well!
Capt. Ian "Wobbles" Ford on Hot Shot reported the first big fish of the season, a 900lb-er released at Number 5 Ribbon Reef. That's what we wanted to hear!!
Then, it got even better. Capt. Darren "Biggles" Haydon on Calypso reported 4 black marlin on Friday that he put at 800, 800, 400lbs and a smaller fish all released yesterday. Biggs said they are wrapping up their five day trip with the last day fishing today, but its already been a pretty solid first week with 7 in the past 4 days. 200 and 350lb on the first two days, a nice one at 600lbs on Thursday, plus the top day yesterday.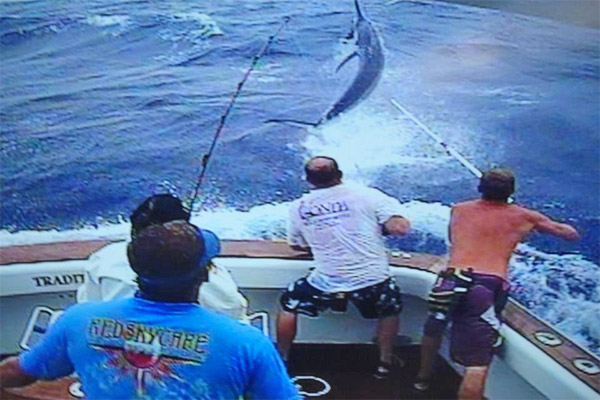 Capt. Tim on Tradition tagged a 500lb-er for Lydie on 50lb chair tackle at Lena (photo – with thanks Christopher "Westy" Marshall). Capt. Brad Craft on Castille also released one around the 550lb mark from two bites yesterday.
And young Jacinta Thomas is back on the reef on board Capt. Brett Thomas' Gorilla with dad Steve. They started their trip yesterday with two smaller fish around the 300lb mark from three bites. This is Jacinta's last stab at the junior record (coming of age is a real drag!) and hopefully she gets her chance on the big girl!  And Capt. Steve Ahlers on Hellraiser back into port after his last trip finished up with two smaller fish on the final day yesterday.