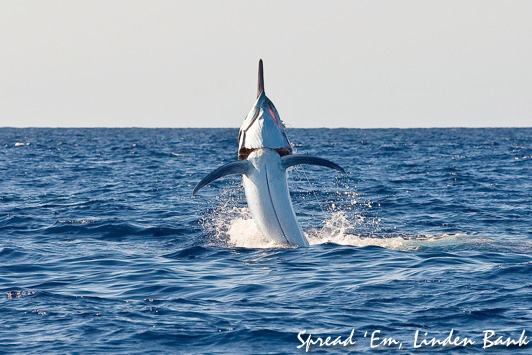 The glamour weather over the past couple of days has allowed many of the smaller trailer boats to get out on the water fishing for the big ones at Linden Bank.  Among them is Paul Dosen's Spread 'em, a 6m Predator that fishes regularly out of Yorkey's Knob.
Paul tells me that he and brother Adrian have finally christened the boat with a giant for angler Mark Nuske yesterday that they put at right up there at the magic number!
Not only was it Mark's first giant black marlin, but his first billfish altogether. What a way to open your account!!  It took him an hour to get her to the boat for release and they got some amazing photos as well – above and below. Congrats guys!!
Also, Luke was just telling me he was speaking to a guy at the tackle store today who had a similar encounter with a giant yesterday in his trailer boat, hooking up just before 6pm and fighting it until 9pm when they finally got it along side.
The little boats are getting amongst them!