And I've got phone service again!
It has been a quiet couple of days on the reef with not a whole lot to report on the pointy nose creatures for the fleet fishing up and down.  But a catch up report from earlier – On Wednesday, Capts. Craig "Sparra" Denham and Greg "Noodles" Sims ventured out to the sea mount for a look-see in the kind weather conditions (and released a striped marlin on the way out).  While not much was found on the mount itself, they released a 550lb black marlin near Euston Reef on their return in.
Also Reg tells me that My Space Too, skippered by big Wayno "Bull" Mckenzie, caught and released a 300lb-er in the morning Thursday at Linden Bank and had another shot later in the evening.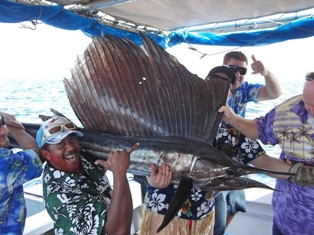 I also had a report from Capt. Ross Grennan who released this sailfish for lucky angler Rocky wide off Yeppoon.  Rocky was stoked at his catch!
The fish was quickly released after this photo.