A catch up report from Capt. Brett Goetze on Reel Chase who ended up back in Port Douglas last night after a great few days on the reef. Following up from the 900lb-er they released a few days ago, angler John hooked up to a solid 600lb-er yesterday which gave him an awesome fight for its size, and then hooked up again to another real nice fish that Brett put at 900 again soon after. John had it to the boat in 30 minutes and to top the day off, the converted another at 200lbs later in the afternoon.  On Tuesday they also released two at Rachel Carlson at 250 and 40o lbs!
I've been promised some photos so I will mention it here as a reminder ;-)
Also a catch up from Capt. Ian "Wobbles" Ford on Hot Shot who got an 800lb-er at the Light on his last trip and missed another bigger one!
Capt. Corey Hard's Askari, Capt. Chris "Sharky" Miles' Kanahoee and Capt. Brett Thomas' Gorilla finished up their 14 day odyssey yesterday.  Corey tells me that they tallied up a more than respectable 44 black marlin between the three boats for the 14 days.  10 of those fish were over 800lbs.
The last day saw a couple of missed opportunities including missing the late bite on the way in, jumping off a solid 600lb-er and pulling the hooks on a smaller fish at the boat but overall it was another awesome trip for the Keinath boys.  Corey would like to pass on his thanks to the captain and crew of the Emerald Lady for their great food and hospitality and to Capt. Sharky and Capt. Brett for their comradeship and efforts. And also a big thanks to the Keinaths as always!
In the middle there were a few small fish caught including on Capt. Ross Finlayson's Top Shot and Capt. Tim Richardson's Tradition.
Nearby on KEKOA we jumped off a small fish which ate the bait out from in front of a big one and then caught a sailfish which stole the swimming scad (I'm sure he thought he was a marlin!)  It was Dean's first sailfish too.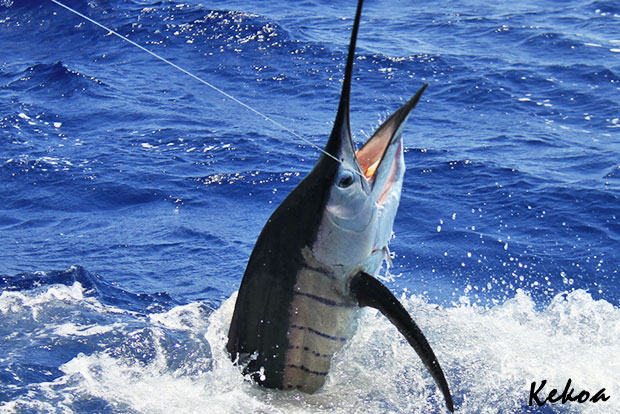 Meanwhile, following the little black marlin progression down the coast, Matt Johnson from Fish The Deep reported that there were 4 caught on the Gold Coast yesterday.
Over the west of the country, the Exmouth GFC's Betta Billfish Bonanza wrapped up on the weekend with 32 boats and 118 anglers competing. Local charter boat On Strike
took out the champion's trophy with 28 billfish tagged over the three days.
There were a total of 200 sailfish raised, 152 hooked and 120 tagged for the event as well as 56 marlin raised, 37 hooked and 12 tagged – including two previously tagged fish.  Another great event from the EGFC who is also hosting GAMEX again in 2012!
And more from the west, this time from Broome, Doug from Tonic sent me this great video of three days of sailfish action which also includes some great underwater footage.