I'll have to write fast before the internet black hole swallows me up again!
With no phone service I haven't heard too much from along the reef but the radio talk around here late yesterday was all about a big fish caught by Capt. Haydon Bell on the Release. Haydon told me that this was a true giant black marlin. And as the picture, taken by Scott Kerrigan from Tradition nearby shows, it is very big!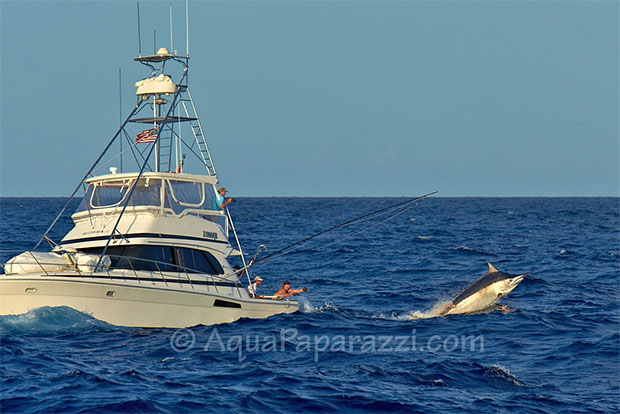 The lucky angler, the luckiest guy from NY right now, who missed out on the big Frankenstorm to catch a Frankenstein of his own, Martin Hirsch (the Big M). They ended up pulling the hook out of the fish on the leader with it strong enough to straighten the hook. What a great action shot from Scott!
Meanwhile on KEKOA a little further to the north, we put Queensland Weekender's Dean Miller onto his very first black marlin at 250lbs. Dean says that to catch a marlin was something he has wanted to do on the show for 10 years but never had the opportunity. There was a bigger fish that came up on the stinger at the same time but failed to hookup.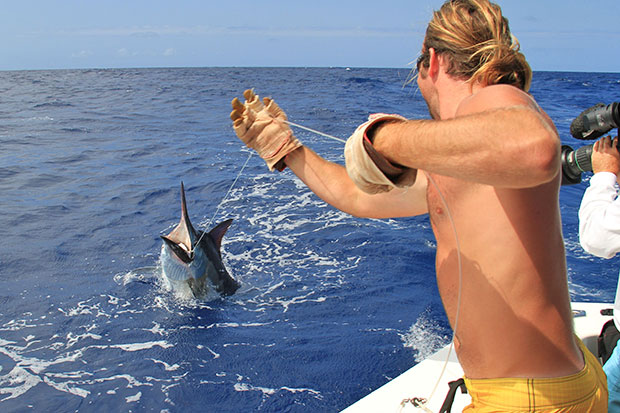 We've had the Queensland Weekender crew on board the boat for the last few days now and have had a great time as they have done a lot of filming of the sport fishing through to marlin fishing and also the entire reef experience from Lizard Island down to the Middle Ribbons. It will be well worth a watch when it airs in the New Year, especially for those who haven't done a trip like this before who will get a good feel for what the whole experience is like.
The show will run as a half hour special that will air not just in Queensland on Channel 7 but nationally the following day on Channel 7Two. Stay tuned for the air date as it gets closer.