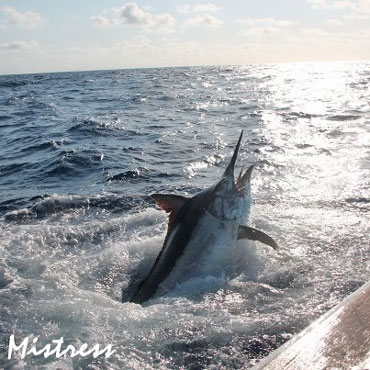 It seems like more big fish are showing up along the reef everyday – and if you are in the right place at the right time, pay dirt! 
Mistress had such a day on Wednesday. With 5 bites all up, they converted two at 150lbs plus a second fish that Capt. Brett Alty put at a massive 1100lbs fishing on Linden Bank!
Photo from Mistress on left.

Fishing nearby on the next day (Thursday) Capt. Adam Jordan on Iona 2 was rewarded for his patience this season with a fish that he put right up there at 1100lbs as well.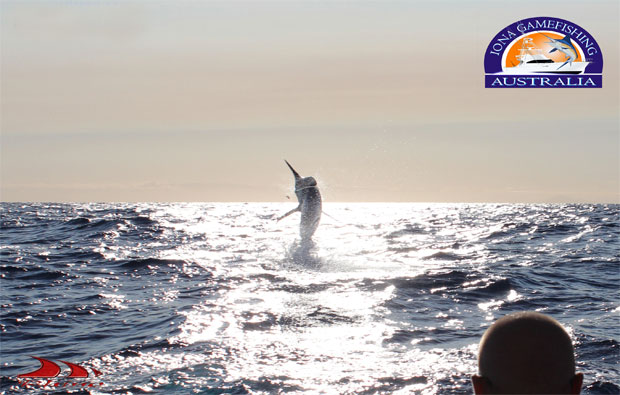 After missing the bite of a 500lb-er earlier in the day, the team put angler John Sullivan on the big one late in the afternoon. Rhino has already put together a clip of the action (although Youtube has confiscated his audio ;-)) There is also another great Rhino photo of the big fish below.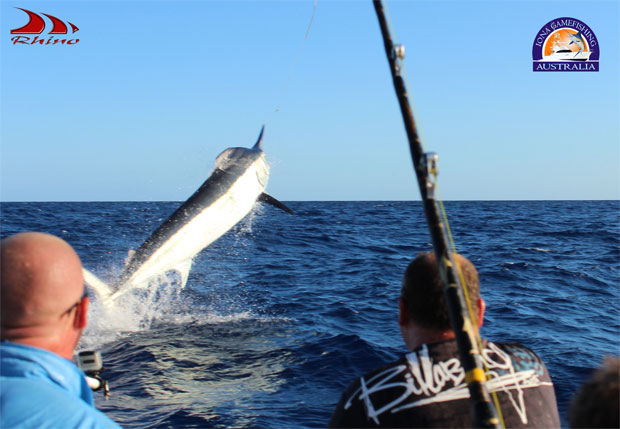 Up at Number 3 Ribbon, Capt. Bob Jones on Iceman also showed the reward of patience after seeing a few big fish caught up there, caught a real nice one that he put at 950lbs on the late afternoon bite as well.
Although I thought Reel Chase were back in Port yesterday, it seems I was wrong. They were still out happily catching fish on the last day of the trip.  Capt. Brett Goetze tells me they caught another two nice ones off Onyx yesterday to top it all off. The first fish they put at 500lbs, the second at 800.  That put them on 9 for the trip including some real nice ones (2 x 900, 800, 650, 500 and 450)!
On KEKOA we welcomed back regular client Jason who has brought 12 year old son Josh with him again this year. Josh caught his first marlin with us last year and wasted no time getting back in the chair yesterday releasing a small one in the afternoon. Practice makes perfect and Josh looks forward to tackling some bigger fish later on this trip.
To the South, Capt. Tim Richardson's Tradition traveled to the bank and saw 5, had 3 bites and tagged one.
Back to the little black marlin, if you think its good on the reef, how's this for two days fishing? Brad Curtis and family's Ningaloo and the Lake Macquarie crew are enjoying a trip up and around Fraser Island at present. In the first two days they have caught 2 blue marlin as well as 13 little blacks! Red hot!
And backing up to the Lizard Island tournament just gone, Kevin sent me this Youtube clip from son Zane on the leader of Sue's 900lb-er on Hellraiser. Zane is doing his first season on the reef, and enjoying it just fine by the looks!