There was a bit of a period of a hot bite along the reef yesterday.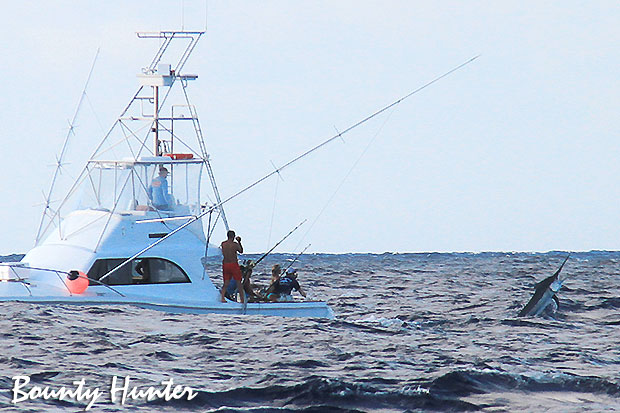 Capt. Craig "Sparra" Denham on Bounty Hunter one making the most of it, raising 7 with 5 bites and 4 successful releases to 600lbs in just a couple of hours fishing, including this one above that I shot while we were hooked up nearby.
"Stretch" was back out at Spur Reef yesterday, this time on 24 foot trailer boat. They hooked up to a nice fish around the 950lbs mark on 80lb stand up, fighting it for a fair while and even having it on the leader a few times eventually cutting the fish off when it swam into the Green Zone.
The late afternoon bite award went to Sea Baby IV who was hooked up and fighting when everyone else was putting the anchor down. Ashley Hurley tells me this fish was successfully released and they put it right up there at the mark for angler Chad Holmes from the Gold Coast.
Further to the south, Capt. Daniel Carlson on Little Audrey put girlfriend Sarah onto her first marlin at 200lbs. Photo from Jeff below of Sarah making it out of the chair to have a look before the release. Congrats Sarah!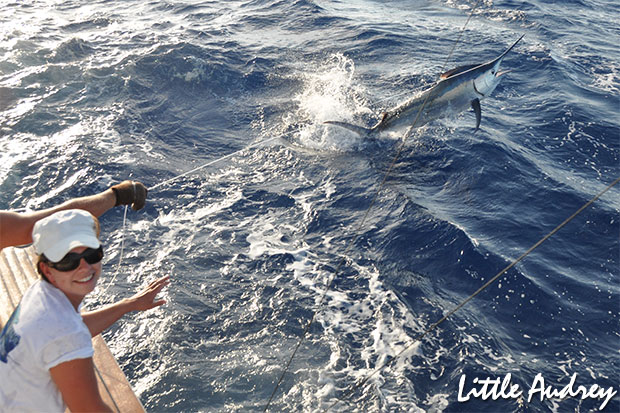 Capt. Corey Hard on Askari fished the middle for 2 from 2 on Saturday and 1 from 1 yesterday – both small fish that put on a fantastic display for the anglers. Also fishing up there, Capt. Chris "Sharky" Miles on Kanahoee released one from 4 bites of smaller fish.
Capt. Darren "Biggles" Haydon on Calypso and mothership South Pacific have made their way south and into Opal Reef last night. Biggs said they released two on the way down the reef. Capt. Simon Carosi on Afishionado went 1 from 3 at Lena and Number 1 Ribbon.
Capt. Damon Gruzdev's Kyrenia also went one from two at 450lbs to angler Jim Doumis. Catch up report from private boat Spread 'Em went 1 from 2 at Linden Bank on Saturday. Mark tells me that they tagged a 300lb-er and jumped off the second fish about 500.
Townsville GFC's Mick Dystra fished Myrdmidon Reef on his boat Reel Crazy and went three from four on small to mid-range fish as well.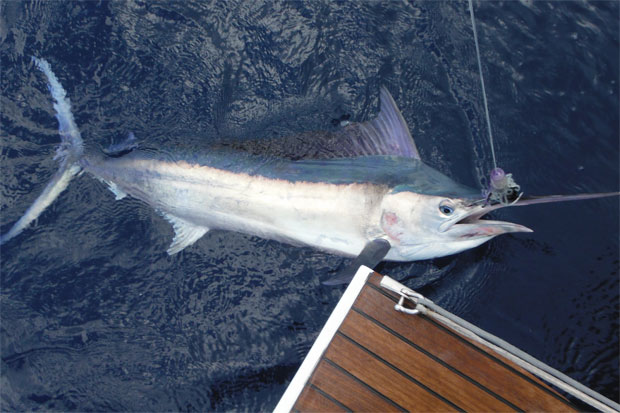 I've also heard plenty of reports of the little blacks showing their beaky noses on the Gold Coast over the weekend. And Tim Mazaraki tells me the yacht Ucantakeitwithu on the delivery home from Hamilton island to Southport caught this one off Fraser Island. They also caught a bigger black marlin as well as a couple of yellowfin on a Mouldcraft Wide Range. The skipper/angler John Stuckey is a regular to Cairns.