Update: I just had a quick catch up with Capt. Chris "Sharky" Miles on the Kanahoee who made the trip up to Number 7 Ribbon yesterday where they had a 900lb-er on the leader on 50lb – nice one! Its been a while since I've had the chance to chat to Sharky who tells me they've added another 10 fish or so to their season talley since we last spoke when they were mid-way through the Keinath trip with Corey including two real nices ones both 950lb! Sounds like he's getting right amongst them and looking forward to hearing more!
Plenty of boats fishing Linden Bank yesterday were banking on it producing the big black marlin, but while it was a great weather day and the water looked plenty fishy and fish were certainly being marked, it was a pretty quiet day for results.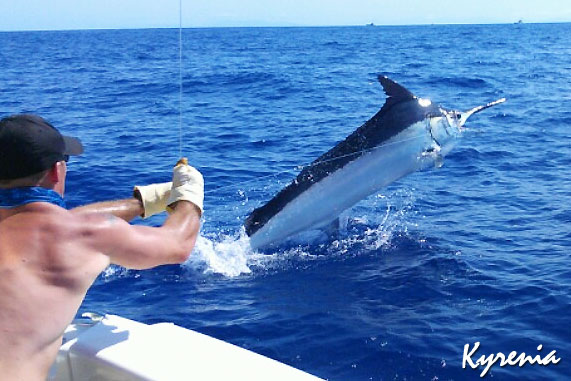 Port Douglas based private boat Kyrenia with Capt. Damon Gruzdev at the wheel and Pete Twiner on deck caught this one above for Chris Dimopoulous that he put at 800lbs.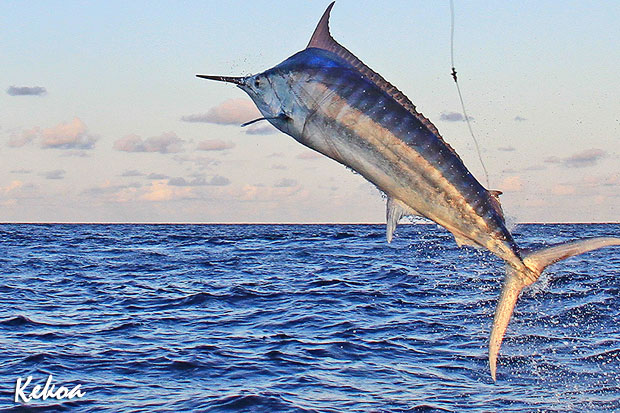 On KEKOA, we caught this 400lb-er above for Jason on the late bite and it was perhaps the most photographed fish on the reef yesterday.  Tail wrapped for much of the early fight, he put on a crazy blue marlin-like display with plenty of fast direction changes, backflips and the like before settling down once he'd worked his tail loose.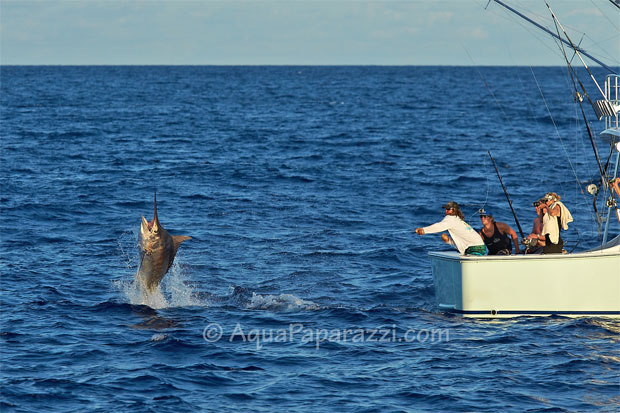 Aqua Papparazzi man Scott Kerrigan was nearby to capture with some awesome shots (below and bottom). Once again showing off the power of the fish and the amazing colours of that time of day on the water.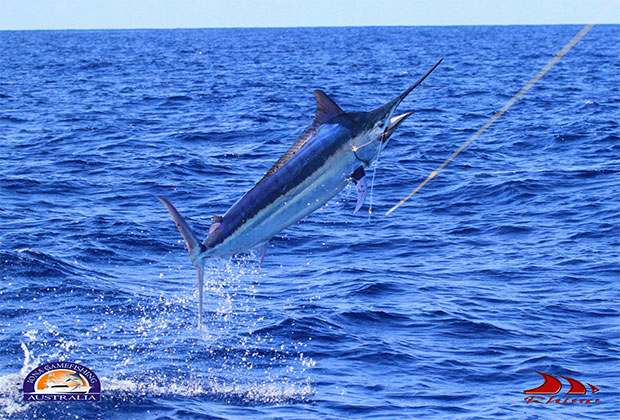 Capt. Adam Jordan on Iona II gave the crowds the flick and fished Jenny Louise and the Light for this 300lb-er for Kathleen Sullivan. Another video edit from Rhino is here.
In the Middle, I heard that Capt. Brad Craft on Castille III caught one about 500lbs out wide of Number 3 and Capt. Bobby Jones' Iceman fished Number 8 for a few bites.
I also heard from Tim Hiscoe and the crew on board the Absolute who are heading into Cairns today to wrap up their trip. They released a 600lb-er for owner Chris Herbert at Number 4 on Friday.
Some more photos: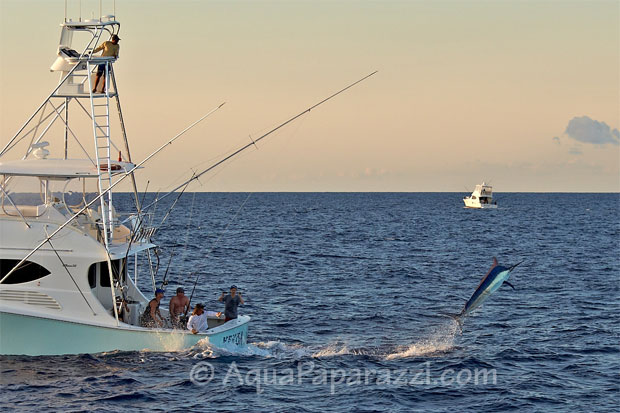 Another Scott Kerrigan shot of us on KEKOA above. Leaping high!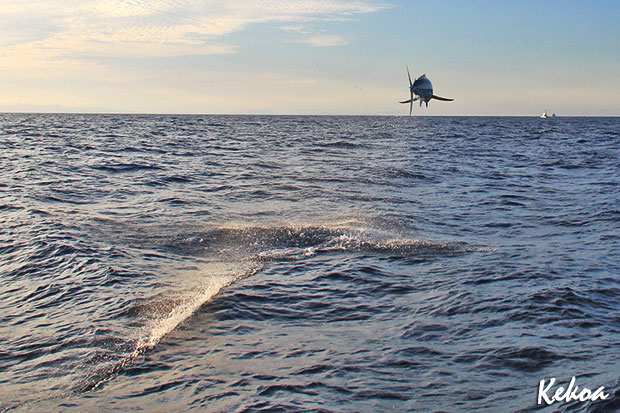 And this way of him jumping away over the horizon. See the air and speed he gets.
From other ports
Capt. Ken Brown on Megumi has hit Fraser Island for Day 1 of his 40 day tour of duty and released a 350lb blue marlin about an hour after putting the gear in.  Not sure what happened after that as he went out of phone range but stay tuned!
Ash Haigh tells me he went 3-1-1 on his first small black marlin this week on his mates 5m Quintrex Ducky on a late afternoon bite in 26m of water NE of the seaway on the Gold Coast.
And more from the West with the news this week of a 330kg blue marlin (726lb) weighed at Exmouth which is the heaviest marlin caught in Western Australia to date. You can read more about it at EGFC's website here.
And back up to Townsville, Andrew Mead's Aussie Barra Charters hosted Creek to Coast's Scott Hillier during the run of little blacks this year.  The footage was shown on yesterday's episode (unfortunately I didn't find out about it until today). If you missed it, you can check out the clip on Creek to Coast here.