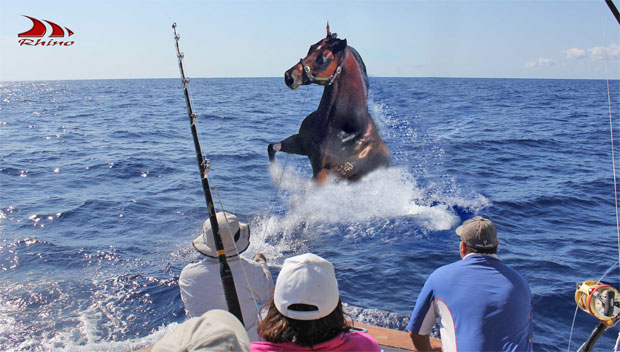 Iona's Rhino illustrating Melbourne Cup on the GBR yesterday
I heard from Capt. Brent James on Mauna Kea who told me that they had a good run in the past two days with two fish right up there near the mark. One of them was for 14 year old angler James Jennings – congrats James!
Capt. Simon Carosi's charge, the Cresta Afishionado, has earned the fond nickname "A fish in the arvo" and once again lived up to the moniker yesterday. After a late start due to watching the big horse race behind the reef, ended up 2-2-2 at Number 2 after 2pm!
I had a catch up report from Capt. Corey Hard who's "My Lucky Day" wasn't so lucky at the races. But Askari pulled through for him as always with a 700lb fish in the afternoon. That followed up from two smaller models the day before.
And back down the banks, seems a bit quieter all round. Capt. Ian "Wobbles" Ford on Hot Shot went one from three at 500lb. I also heard that Capt. Darren "Biggles" Haydon on Calypso went one from two – catching the smaller of two raised at once.
Fraser Marlin Slam
Capt. Ken Brown's Megumi converted an unusual Grand Slam off Fraser Island yesterday. They caught a blue and a striped marlin out wide and followed up with a little black in close on the way home!