Where else would you rather be than the GBR when the bite is…big! While the fish aren't biting for everyone, if its your turn, the big girl could be on!
Capt. Chris "Sharky" Miles on Kanahoee, case and point. He reluctantly left what has been his honey-hole at the top of the reef to truck down to the south as he is into Cairns tonight. Putting the lures in at Cruiser Pass (the opening between Lena and Pearl) and he hooked up. Angler Amanda Thompson, doing the hard yards in the chair once again to notch up her second 1200lb giant black marlin of the trip…on 50lb tackle~!  This one she fought for 3 plus hours as the fish took them out to sea.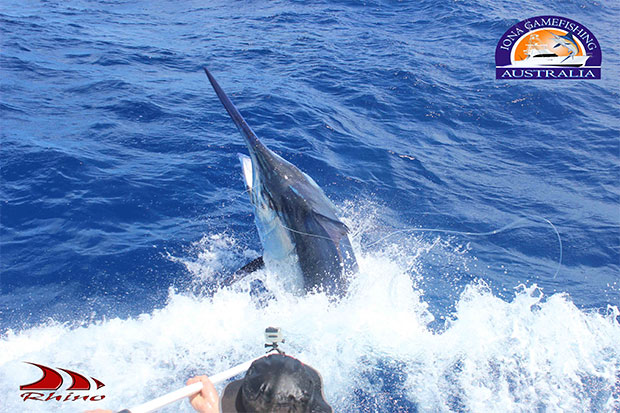 Down at Linden Bank, I hear that the big girls came out to play. Capt. Adam Jordan on Iona 2 released what he called biggest fish he's caught in his 11 years on the reef (above), and second grander black marlin in a week to angler Jim Sullivan! Watch the video here. Congratulations on an awesome day! That wraps up a great 7 day trip for the Sullivan clan with two over the mark, one at 900 and several smaller fish.
Up another notch, nearby, Capt. Ian "Wobbles" Ford on Hot Shot released two 'granders' in a day for husband and wife Dave and Sharon Thompson.  Capt. Wobbs would only put a 950lb+ label on the first one for Dave, but labelled the second in the well over category for Sharon. Wobbs told me he's loving life at the moment – and wouldn't you? What a great result!
Also having a big day at the Bank yesterday, Capt. Ashley Wallis on Kalira also release a fish that he put at 1000lbs.
It was a quiet day in the Middle, but the late bite payed off for Capt. Corey Hard on Askari with a 600lb-er at Number 3 Ribbon. And I also heard from Grant Thomson who released one from three.
Rhino on Iona also sent me this great shot of Graham Johnson's Broadbill in action.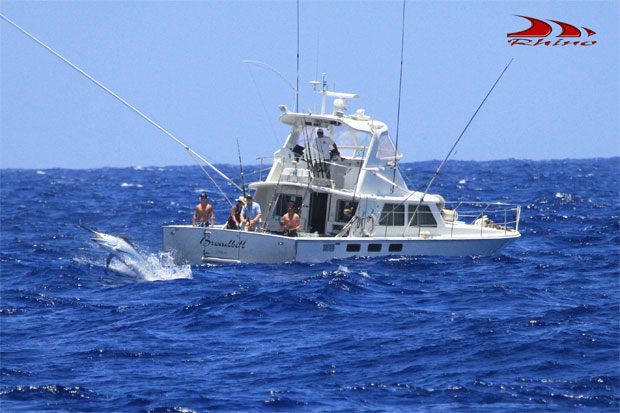 Don't forget the Port Douglas Marlin Challenge starts today, and the Yorkey's Knob Makaira Bullfight will be held over the weekend as well. Stay tuned for results. Check the tournament calendar for more details.