Capt. Corey Hard on Askari tells me they had an exciting day yesterday.  They caught a small fish as well as a solid 900lb-er. But its the ones that got away that gave them the most excitement. One fish about 450lb started its leaps straight at the boat after the bite and only Corey's quick forward thrust kept him from landing in the cockpit.  A second one about the 850lb mark was tail walking and giving a great display but unfortunately another fish ate the peg mark!
I also had a catch up report from Conor on Kaizen who are fishing waaaay up to the north at Jewel Reef. Conor says they have had a great three days fishing with a small one the first day, a fish about 750lbs on day 2 and then one that Capt. Russell put at 1100lbs for angler Alan Harradine yesterday.
Capt. Darren Sandy on Game Over also found the big one for first time Cairns anglers Kerryanne and John Thompson.  Kerryanne was the angler for a fish that Darren put at 950lbs at Lena Reef, while John got the 'small' end of the stick with a fish at about 80lbs!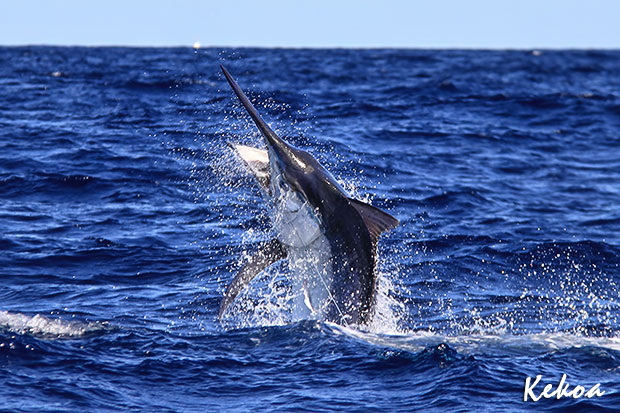 On both ends of the bank, there were a few fish around. Capt. Tim Richardson's Tradition converted one around the 450lb mark on 80lb stand up. On KEKOA, with Capt. Luke Fallon, we also got one at 450lbs for owner Scotty Taylor (above) which gave him a good re-introduction to the game chair and still had plenty of juice when set free jumping across the surface to celebrate.
Capt. Simon Carosi on Afishionado got a little one too while Andrew Yeh and the Sunshine Coast GFC crew on Outside Edge released two – a 750lb-er in the morning as well as a smaller one in the afternoon which I captured jumping behind (below). MySpace Too was also out on Opal Ridge with the aim to put Reg's 14 year old daughter Sarah Moore onto her first marlin if it was a nice small one. But an aggressive bite on the surface had Sarah running for the flybridge so first time marlin angler Sam Bannister jumped in the chair instead. It was on the leader within 5 minutes estimated at 300lbs – once again a very happy young crew!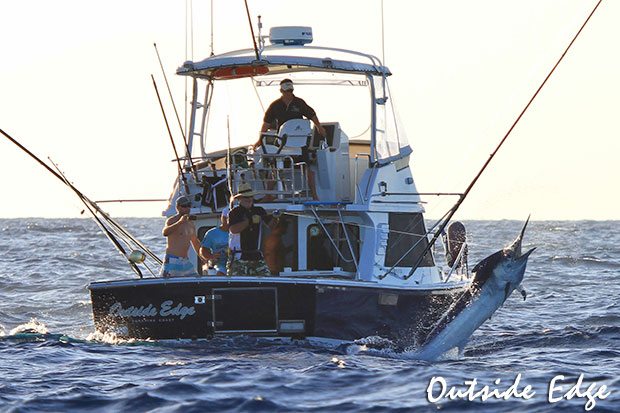 The Port Douglas Marlin Challenge kicked off with 6 tags (by my count) to Sea Baby IV (600lb), Kyrenia (300lbs), Castille III (250lbs), Reel Impression and Joe Joe with 2 tags (sorry I missed the sizes of those last two, which were actually the first two) which leaves Joe Joe in the lead after the first day.
Fraser Island
A wrap up report from Capt. Ken Brown on Megumi's three day trip off Fraser Island. Fishing sole angler Simon Marshall the final tally was two blues, a stripe and three blacks. (including the grandslam as reported on Wednesday). The little blacks were thick in close but were tiny so they chose to concentrate our efforts on the big fish. Fishing a grand total of 20 minutes on light tackle inshore, they raised six blacks and caught two. The other black was caught wide on heavy tackle. David Granville was onboard and snapped these gorgeous underwater pics (above and below).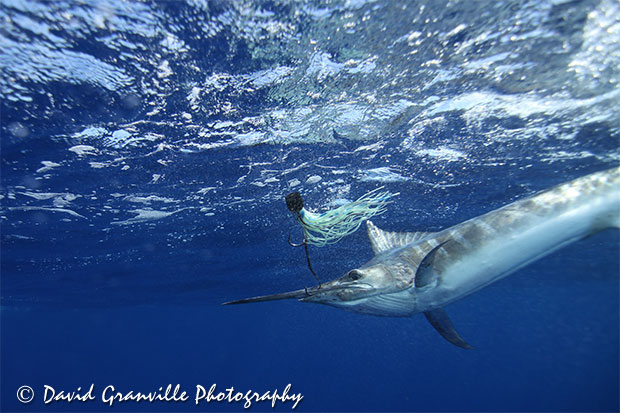 Gold Coast
Seems like there are more little blacks making themselves know on the Gold Coast every day.  Elite Tackle's Stewart Martin and Sam Welch also fished off the Gold Coast early this week and went 4-4-3 on the little blacks. They were running hookless skirts off the corners they had several attempts on fly that failed to connect with the fish fading back to hook up on the long rigger or shotgun. Stewart says that most shots came in 20-30m of water on small soft head skirts in Lumo or purple.
Nick Currey reports that the fish are scattered all the way from Pin Bar to the Seaway. Nick was fishing on Dino Rosa's Manic and went 1 from 3 (12kg) on Wednesday. Nick says there were large bait schools in area but they were not holding fish.
Fiji
George has just returned back to Aus after what was mostly a business trip back to Fiji. With the glamour weather however he couldn't help sneaking out with the boys on a few day trips. Opulence is based at Port Denarau with the rest of the fleet of 5 boats now and will be concentrating on mostly day trips until the Kadavu season starts again in April. George is a guide for the Kadavu trips and spends the rest of the year crew training or working from home at Port Stephens.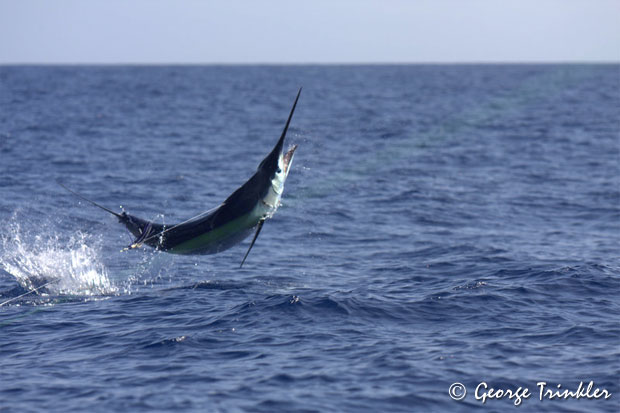 George reports that the boats are averaging 2 blue marlin bites a day and the mahi mahi are in plague proportions. a few spearfish and yellowfin from 5kg to an 80 kg beast the guys landed on Monday.