Two of the best reports I've heard in a long time today – although I don't know too many details, I'm sure there will be more to come.
Capt. Corey Hard and the team on Askari (Daniel Klein and Rhys Younan-Wise on deck) had their A-game on yesterday. Following up from an already good few days of fishing with Sunshine Coast Doctor Lee Brown on board (solo angler) they went 7 from 10 giant black marlin yesterday.  Corey tells me the fish were 800, 750, 3 between 400 and 500 and a 300 and 200lb-er.  I hope that Dr. Brown's winding arm is not too sore today!
Corey tells me there are plenty of awesome video and stills action to come as soon as they have the time to go through it.  The action kept the boys very busy on deck with dual bait rigging stations a-go. Congratulations guys on a spectacular day!
Meanwhile, word of the Day 1 results of the Hervey Bay Boat Club Tournament are bouncing around on the internet. Surfers Paradise Game & Sport Fishing Club's Andrew Morely is fishing with Bundaburg's Rob Wood and are in the lead going into the second day with a 40-32-21 black marlin tags. Second place are not too far behind on 18. Now that's hot fishing!
Back up north to the Cairns marlin fishing season again – there were also plenty of big fish around yesterday, lets see if I can keep it all straight….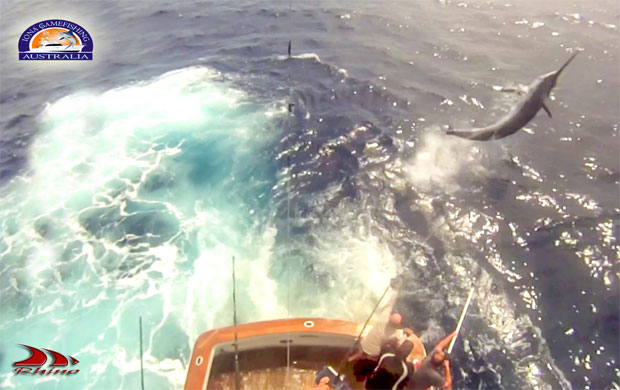 Capt. Adam Jordan on Iona released 900lb-er for angler Andrew Mayne and got the bite out of another big one too.  Photo from Rhino above of the action on Iona as well as this great shot below of the action on Kanahoee fishing nearby.  Capt. Chris "Sharky" Miles reporting two yesterday at 600 and 200lbs on his first day out on a new trip.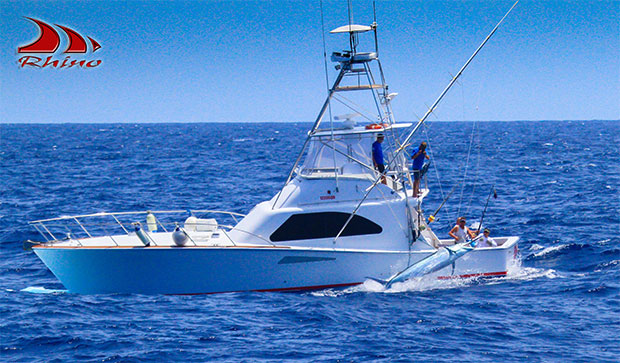 Day 2 of the Port Douglas Marlin Challenge also saw some big fish tagged with Reel Impression reporting one they called 1000lbs and Capt. Brett Thomas' Gorilla one at 950lbs.  The current standings in the competition are: Reel Impression 3 tags, Joe Joe 3  tags (biggest 850), Kyrenia 2 tags, and on 1 tag each Sea Baby, Gorilla and Castille III.
After two days they have recorded 22 strikes, 19 hook ups and 11 tags.  The Yorkey's Knob Makaira Bullfight also starts today so I expect a lot of radio and boat traffic – hopefully the fish play ball for the competitors!
Outside the tournament, Levante caught two that they put at 550 and 800.  Capt. Craig "Sparra" Denham on Bounty Hunter got two smaller ones.  Capt. Luke Fallon put us on KEKOA on the late afternoon bite on a double header and Glen fought the big fish for a short while before it fell off and backed straight up to catch the little one in the fading light (below). Capt. Tim Richardson on Tradition also went 1 from 3.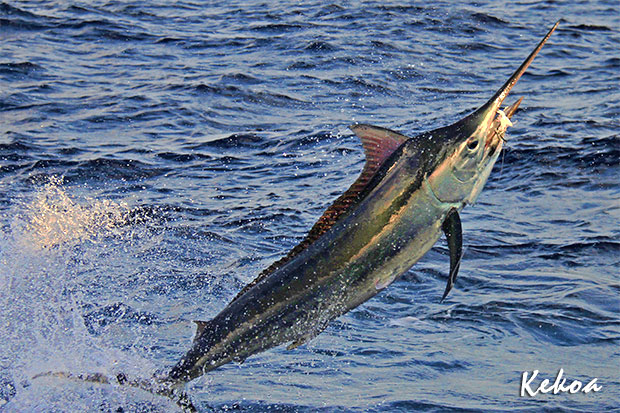 Update: I also heard from Andy and Steve who are fishing on Mauna Kea and released two yesterday including one at 700lbs and a smaller fish.