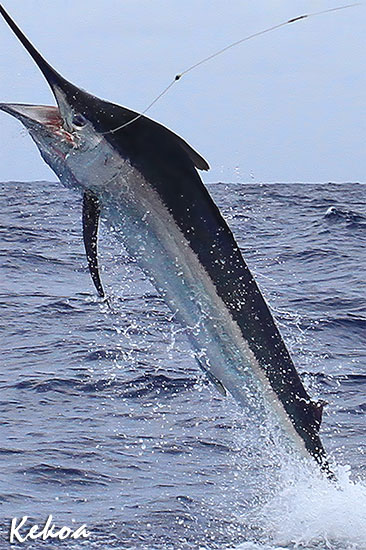 Well, you know how that one ends. Capt. Corey Hard on Askari, after a top day Friday, tells me that he didn't even see one yesterday. Hard to imagine! For only his third day all season, without a single black marlin sighting!
And the rest of the reef was pretty quiet as well. I followed the tournaments and only heard of bits and pieces from outside the comp of mostly small fish.  Capt. Craig "Sparra" Denham on Bounty Hunter went 1 from 2 on a small one, as did we on KEKOA with Capt. Luke Fallon (this one for Vic from Vic pictured above.) Andy tells me they jumped a good one off on Mauna Kea after having the baits in the water for only 5 minutes and then had to wait for the late bite for a second go with a 300lb-er.
Shaking off the doubt over the new props, in the Port Douglas Marlin Challenge, Capt. Brett Goetze on Reel Chase took the day with two tags at 600lb and 200lb.  Reel Impression added another to keep them in the lead. And Mistress also got on the board with a 300lb-er for Barry.
Mistress are doubling up, and also fishing the Yorkey's Knob Makaira Bullfight and so that fish also put them on the board in the that comp.  Only 3 tags for the Bullfight also. First on the board was committee member Kirsty Garrett who tagged her first black marlin on Sea Bird early in the day. Reel Nice also tagged a fish on the last sked.
Plenty more fish tagged on Day 2 of the Hervey Bay Boat Club Tournament. 14 boats are competing and I believe that there were a similar number of fish tagged to the Day 1 result (84) again yesterday.
Also, most boats fishing the Gold Coast yesterday getting a small black or two as well.  These are some pics that Stewart from Elite Tackle sent me from their trip out last week.