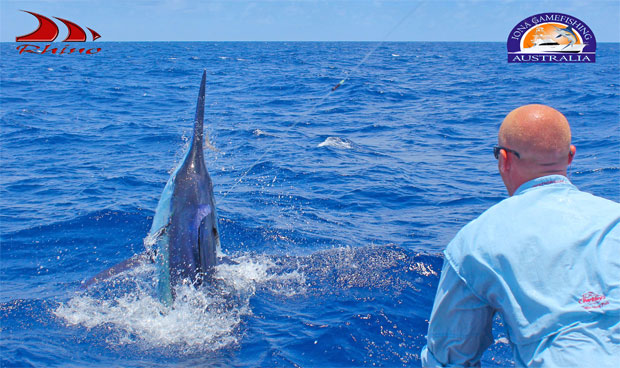 Capt. Adam Jordan on Iona II reported another big fish yesterday. Hooking up to an oversize double header, he unfortunately lost the fish that he put at 800, but converted the bigger of the two, another that he put at right on the mark at 1000lbs (above).  Added to the smaller fish that he caught straight up in the morning and it was a good day for the guests from WA.
On KEKOA with Capt. Luke Fallon, we also saw a fair bit of excitement yesterday launching a satellite tag (that was given to us after the Lizard Island tournament) into a 800lb-er for Scotty (photo on left). This was the fish we'd been waiting for with for the sat tag, hooked on a circle in the corner of the jaw and still going very strong at release.
We pulled the hooks on another bigger fish around the 900lb mark soon after with the leader just out of reach at the back of the boat and had another good one about 600lbs piling all over the baits, bill swiping and pulling it out of the rigger but no hookup.  Then at the death, we also caught another little one for Glen just on lines in.
I heard from Capt. Ian "Wobbles" Ford on Hot Shot who finished up his latest trip into Cairns last night fishing with a total of 7 fish in the six days. In addition to the two big ones already reported they released a 500lb-er and 4 smaller fish.  Great fishing!
Conor also tells me that on Kaizen with Capt. Russell Caphorn, they finished up their trip with Alan Harradine yesterday finishing with 6 all up. In addition to the three (including the big one) reported on Friday, they added three more at 750, 350 and 150lbs.
Capt. Corey Hard's Askari also reporting three bites, jumping two of the fish off (including 1 big one) and caught a little one. Capt. Tim Richardson on Tradition also went 1 from 1 on a smaller model.
Tournaments
Port Douglas Marlin Challenge
The four day tournament wrapped up yesterday with another 6 fish added (by my count) including some nice ones.  Capt. Brett Thomas' Gorilla tagged one at 850lbs as did Capt. Damon Gruzdev's Kyrenia. Kyrenia and Reel Impressions fought it out to the very end with Reel Impressions taking the honour from Kyrenia on countback, both with 4 tags.  Joe Joe was third from Reel Chase in fourth, both with 3 tags from Gorilla and Hellraiser both on two – Hellraiser coming from behind with both their fish tagged yesterday. I snapped this shot of them on the second which Capt. Steve Ahlers put at 250lbs (and Greg "Noodles" Sims at the wheel!)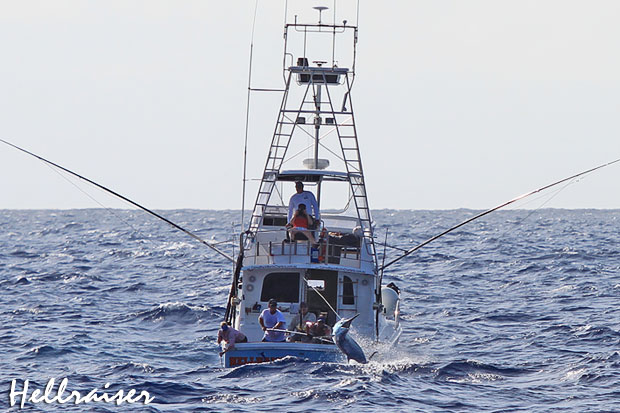 Yorkey's Knob Makaira Bullfight
And in the other tournament which wrapped up yesterday, Mistress tagged early with a 750lb-er for Barry to take the lead. And with their third fish for the weekend on the second sked appeared to have taken the lead. Although I don't have the official results yet, I believe they will have taken it out.  Sweet Loraine tagged a nice fish yesterday as well.  More to come..
Little Black Marlin off Yeppoon
Nathan Green reports a great session on Saturday going 20-14-10 on small blacks in the 10-15kg in his 6.4m Freedom Pelagic. Nathan said that 3 were hooked on skirts and 7 on livies and the had 3 double hookups which was very interesting with only 2 on board! They were fishing NE of the harbour with Nathan's good mate Chris Moisson on board with him.
Hopefully a report from the Hervey Bay Tourney to come soon as well.